Traxxas Slash 4×4 Announced!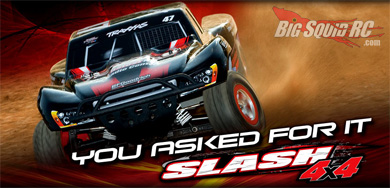 Breaking news! Traxxas has just announced the Traxxas Slash 4×4 Short Course Truck!
Wowza! I have been hearing from Traxxas that this upcoming announcement was going to be big news.. and while we here at the Big Squid office had some guesses, that were close, like an electric Slayer, we didn't think it would be a re-design like this! Very cool!
Here are some still's from the video!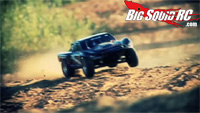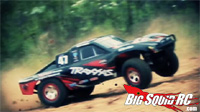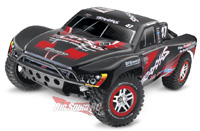 A few shots made it look like it had a headlight setup, similar to what we would see in the Sumit.
Details: 4 Wheel Drive, new super efficient shaft drive, new race suspension, licensed BFGoodrich tires, TQ 2.4 Ghz Radio System!! Top speed 40mph with included 3000mah 7-Cell battery pack and Brushless Velineon System! Also of note, the front Revo Sealed Diff!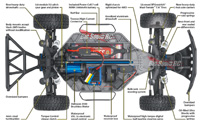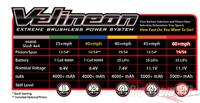 Awesome stuff.. some of these pictures are from the official press release we just received.
It's truly a whole new platform of vehicle! Good job Traxxas!
I have started a Traxxas 4×4 Thread in the forums. Got questions or comments? Head over there and post em up!
More info coming as soon as we get it! Hopefully some hands on at iHobby Expo in a few weeks!