Traxxas Summit now includes 2.4GHz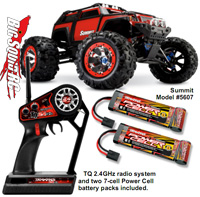 Recently we reported that Traxxas would start shipping a bunch of their vehicles with 2.4Ghz radios. You can now add the Traxxas Summit to that long list! It also comes with two 7-cell packs to get you up and running! I'm really glad to see Traxxas continue to make things easier on the new people coming into the hobby! The less they need to worry about, the more fun they will have.
For more info on Traxxas click HERE.