Traxxas Torc R/C – Pro Series Write Up

Perris Auto Speedway – Friday May 29th
Practice opened at 9am and racers slowly started arriving. Traxxas had announced earlier in the week a 2nd day of racing would be added on Friday. A number of the racers either didn't receive the news or received it late enough to not be able to plan better so the organized racing was scheduled to start at 3pm. At 3 we started what would be 3 rounds of qualifying and mains. Turnout was light so the Open and Spec were combined into a single class. The two clases proved to be pretty equal because of limited traction on this particular dirt. CJ Greaves came away as the winner followed by Dalton Bechard and Mike Fisk in the combined class. There were A and B mains for this class. We had 3 Slayer entries on Friday which saw Holli Bechard take the win followed by Brian Skinner and Martin Gaona.
Saturday May 30th
Practice opened at 9am with racing scheduled to start at noon. Entries were up from the following day and we also scheduled and extra round of qualifying.
The Spec Slash class included a C Main with Troy Cunningham and Tyler Good bumping to the B Main. Brian skinner took the win in the B Main followed by George Lachow both bumping to the A Main to make it 8 trucks starting in the A. Dalton Bechard took the lead early and held onto it until lap 16 falling back to 3rd with Theo Capitanis taking the lead for 2 laps. Shane Good came from the back with a bad start and took over the lead on lap 18 and held on to it for the win. Dalton came back to finish 2nd with Theo taking 3rd and Brian Skinner just missing a podium spot in 4th.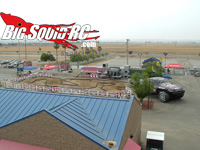 The Open class included a B Main which was won by Richard daniel with Jim Ghahremani taking the last bump spot to move into the A Main. In the A the land rush start proved to be interesting with the B Main winner Richard daniel taking the 1st lap lead only to lose it to Dalton Bechard on lap 2. Dalton hung on until lap 7 when Shane Good moved into the lead and cruised to a 9 second win over Dalton in 2nd and CJ Greaves taking 3rd.
Slayer was our smallest class with only 6 entries but was one of the most entertaining. Theo Capitanis proved you can take a truck straight from the box and do good. After round 1 of qualifying he opened up a new Slayer and tosed it down for qualifying coming away with a 2nd qualifying spot. In the A Main Brian Skinner took the lead at the start and looked to be strong until Holli Bechard caught him on lap 6. From there on it was all Holli for the win and a 1 lap advantage on Theo in 2nd and Skinny in 3rd at the end.
Conclusion.
These events are slowly building in racer turnout. Everytime we started racing we gathered a crowd around the barriers and in the portable stands set up trackside. I see a lot of interest and amazement that these trucks can take the abuse they do. This is the 1st time a lot of the spectators and some of the racers have seen an organized race with electronic scoring. The Tracking International Crew came over and checked out the setup and shot some footage and did a couple interviews which will be showing up on their site. Also Damron Atkins with Traxxas brought out a Slash with an in car camera and ran in one of the qualifiers to get some in car footage. This footage is already on Tracking International.
Be sure to check out the results and info on the Traxxas Torc RC site http://traxxas.com/torcrc/
Also the Tracking International site.
http://www.trackinginternational.com/live-chat/