Traxxas TQ 2.4GHz Programmable Radio System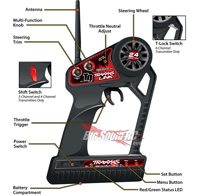 We just got the PR for the new Traxxas radio, and it is sounding pretty sweet! The official name is the Traxxas TQ 2..4GHz Programmable Radio system with Traxxas Link. A bit of a mouth full, but it comes with some great features! To start with, it's spread spectrum, meaning no more frequency worries! It now has a multi-function knob on the face of the transmitter that can be used to set steering exponential, steering and braking dual rates, and throttle trim! Other tuning options like end point adjustment, servo reversing and sub trim are also possible with this radio. You just don't see that many functions on a radio in this price range, or on a radio that comes with a vehicle like the Slash 4×4!
The really stand out feature of the radio though is the new Traxxas Link automatic model recognition software. It's basically their version of 'model memory' made simple. Each time the transmitter is bound to a new receiver, it saves that receiver in it's memory along with all the model settings assigned to that receiver! AWESOME! The next time you turn on your transmitter, then reciever, the settings are automatically recalled. Up to 20 vehicles! That is very cool. No need to search for the model name, etc.. it just works.
Other key features, integrated fail safe, 5 channel receiver with 2 steering inputs for dual servo systems, and finally price is pretty good! Only $150 for the radio system with 4 channel transmitter and 5 channel receiver!
I really like the way Traxxas always make things simple and useful! Good job guys.
For more information head over to the official Traxxas website.