Well, someone had to go and wake up the sleeping giant that is Traxxas. A few weeks ago Traxxas dropped a bombshell otherwise known as the TRX-6 Mercedes-Benz G 63 AMG 6×6. The pictures alone sparked up a fire of conversation that consumed anything else that was happening in the scale world. So how did Traxxas do with their first 6×6 rig? Keep reading to find out!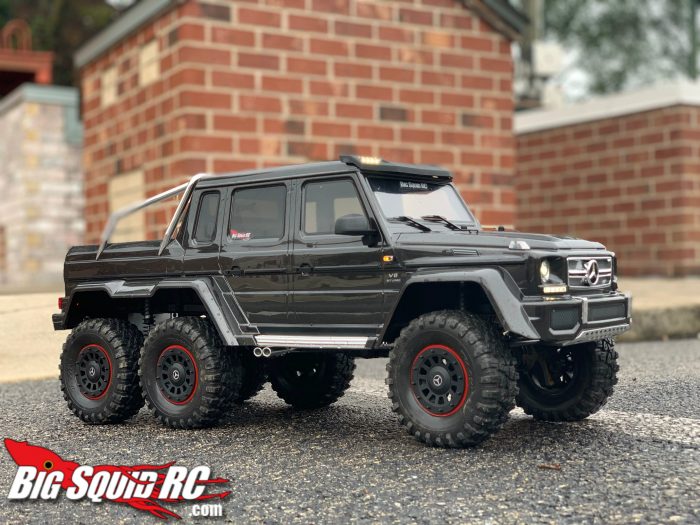 From: Traxxas
Direct link: Traxxas TRX-6 Mercedes-Benz 64 AMG 6×6
Unboxing: Unboxing the Traxxas TRX-6 Pics and Video
Review By: Jeremy Griffith
Photography By: Jeremy Griffith
Test Drivers: Jeremy Griffith, Greg Holman
Specs:
RTR or Kit: RTR
Ages: 14+
2wd or 4wd: 4WD
Shaft or Belt: Shaft
Electric or Gas: Electric
Waterproof: Water Resistant
Scale: 1:10
Length: 25.61 inches (651 mm)
Width: 9.78 inches (249 mm
Wheelbase: To intermediate axle 12.76 inches (324 mm) – full wheelbase, 17.87 inches (454 mm)
Weight: 8.8 pounds (3.99 kg)
Motor: Titan 21T Reverse Rotation
Speed Controller: XL-5 HV
Low voltage cut off: yes
Radio: TQi 2.4GHz 4-Channel Transmitter
Differential: 4 Gear, Remote Locking
Driveshafts: Shaft-Driven 6WD
Shocks: Aluminum GTS Shocks
Servo Saver: No
Screws: Hex
Spur/Pinion Pitch: 32P
Bearings: yes
Tires: TRX-6 Mercedes-Benz G 63 AMG 6×6 2.2-inch Beadlock-Style Wheels with Soft S1-Compound
Battery: NA
Part Number: Model 88096-4
Bashing Specs:
Front Approach Angle: 60 degrees
Wheelie on demand: It's already hard enough to wheelie a RTR rig, let alone when it has 6 tires lol, so no.
Backflip off ramps: No
Stability control: No
Sound module: No
Self-Righting: No
FPV: No
Run Time (measured by BSRC on a 2s 2000 mAh lipo): 35 minutes
Top Speed: 10mph
Street Price: $629.99
Primary Competition: 6×6 RTR rigs are a new market, and as of now, Axial Racing and RC4WD are the only real competition Traxxas has. Stay tuned because this war is just getting started.
What's Needed To Complete: You will need a battery and charger. The vehicle comes completely assembled and ready to go.
Set up notes: We just plugged in the battery and hit the trails. All of our driving has been with the vehicle stock out of the box.
Test Venues: Juicebox Off-Road Park, Great Lakes Gauntlet in Saranac Michigan
Turning: Impressive would be a fitting word for the TRX-6 turning ability. For as long as the TRX-6 is, the rig can turn surprisingly well. The intermediate axle really helps the TRX-6 turn in those high centering situations. It's a different story when you have the diffs locked, your turning radius gets cut in half.
Crawling: Traxxas makes some very capable rigs, we all know that by now. The TRX-6 has not fallen far from the TRX tree, in fact, it is the tree. No matter what trail you are on, the TRX-6 makes it look like a walk in the park. Portal axles and 2.2 tires are a monster combination and the 6 Aluminum GTS Shocks all working together equals one of the smoothest RTR rig you will drive. When the diffs are locked the 6×6 really shows its stuff. Crawling up a flowing water is not easy, but the TRX-6 accomplished it with ease.
On-Road: We took the TRX-6 to a local safety village and I can honestly say the TRX-6 is a lot of fun on road as well. Without the two speed trans it would have been boring.
Grass: Grass isn't a problem for the TRX-6 one bit, so no worries there. It goes UP running water! Watch the first drive video.
Tires: Traxxas makes some good RTR tires; what we like about the TRX-6 tires is the S1 rubber compound. Getting a scale tire to look real and still do good on the trails is not easy but Traxxas pulls it off nicely. The wheels are 2.2" Beadlock-style wheels with hub inserts sporting the Mercedes-Benz logo.
Enjoy the unboxing video! Feel free to hit that thumbs up or subscribe to the channel and leave Brian a Birthday comment!

Power: I thought for sure the TRX-6 would be kind of a dog given its size but the 21T 550 motor is perfect. We used a 3s lipo for most of the testing just because seeing a Mercedes-Benz even get a little air time is cool to see. The motor packs plenty of power for driving and climbing over just about anything.
Radio: If it's not broke don't fix it. The TRX series, minus the Sport model, has always come with TQi 2.4GHz 4-channel transmitter and works great. Using the Cruise Control feature for long trail driving will also save battery life so you can get some longer run time!
Broken parts: The steering servo was crazy strong out of the box, but by the end of a lot of testing and abuse, it has become a bit sluggish and is on its way out. We will be upgrading it soon.
Best Mod: A new steering servo as soon as the stock one goes bye bye. You don't need to do it immediately, but there will be one in your future.
Misc Notes: The inner fenders seem a little too narrow so you will get trail debris in the chassis. By no means will that effect its performance, just a little more cleaning time compared to the TRX-4.
Be prepared to share! Every TRX-4 owner on the planet 'wants to try it'. That's always fine with us, we love to share and get people wheel time, but your millage may vary.
Summary:
A= outstanding/Best in class, B = Above Average, C =Average, D = Below Average, F = Horrific
Time to bash: B As long as you have a pack charged, from the box to hitting the trail, it takes about 2 minutes.
Workability: A Traxxas keeps it easy when it comes to repairs and working on the TRX-6 is nice and open for easy access to parts.
Car Show Rating: A The officially licensed Mercedes-Benz G 63 AMG 6×6 body is beautiful looking and done well. The installed LED Light Kit includes headlights, tail lights, roof lights, and side markers. The sealed waterproof design enhances the scale realism of the TRX-6. The added tail pipes are sick looking and even mount up to the frame where about the engine would be. Traxxas is learning that the little details are now crucial when making new rigs, and I think we all can be happy about that. Just don't forget the interior next time Traxxas, because it would have been an A+.
Bash-A-Bility: A Crawlers really don't get bashed in the same way a basher would. But the TRX platform can take a good beating with little to no broken parts. The new TRX-6 is just as durable so don't be afraid to get wild with it. (Have you seen our Demo Derby video?)
Fun Factor: A Night or day you can have a great time with the TRX-6 right out of the box. It doesn't matter how long you have been in the hobby. Whether you are just getting started, or you are a seasoned vet, the TRX-6 will keep it interesting the whole time.
Handling: A It may look like a limo but the TRX-6 handles great. The rig is very stable on side hills and inclines, it is prone to tipping on speedy turns but that is expected for this size of a rig.
Value: B We know $629.99 is no small amount of money, but breaking it all down the price is fitting for the TRX-6. We wouldn't put it past Traxxas to come out with a TRX-6 Sport version down the road.
Parts Availability: A+ This is one category that Traxxas will always get an A in. Even though the TRX-6 is a new rig, its still all TRX-4 parts, so finding parts is not hard.
BigSquid Rating: A The Traxxas TRX-6 is a world class rig and its not going to be easy for someone to challenge that. As it gets harder and harder for companies to compete for top dog in the crawling world, Traxxas always seems to have something in their back pocket. The TRX-6 is a great example of that, two months ago no one had a clue about the TRX-6 and then BOOM! Mic drop. If your looking to get the TRX-6 it would be money well spent!
Want to see it in action? Check out our FIRST DRIVE video below.