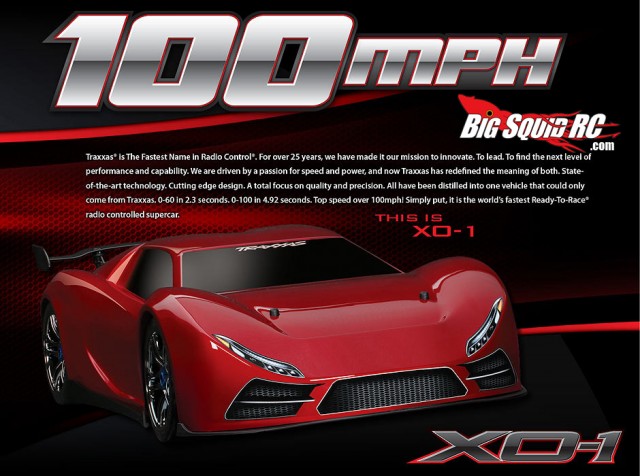 The Traxxas XO-1 has finally been announced! That's XO as in XOhh. Pretty sure thats not the Traxxas X0-1 As in X Zero. Also it's not XO1. Pretty sure they want that dash.
It's an on-road vehicle that Traxxas is claiming will do 100+ MPH with two 3S 5000 packs! It also has a App for the iPhone with telemetry for the newly designed TQi radio with docking base.
They are stressing experts only at these speeds! It won't do the 100+mph without the iPhone app installed.
Comes with the NEW Castle Creations Mamba Monster Extreme Speed Control.
Special 100+mph belted rubber tires.
I'm guessing we will be fighting to see who does the Traxxas XO-1 review! hahah
Comments on! What do you think??
Keep reading, more pics after the break… hit refresh.. added more pics.. and FULL SPECS!

Those headlights better look and work like that!

Random Big Squid RC Comments..
Cubby: Wants to see 10 newbs in a parking lot, and see how many calls to 911 happen.
Brian: I want those working headlights, please please please let those work.
Brian: For the record, we totally had the product number correct weeks ago! 6407 🙂
Brian: 1/7 scale? Really? NOW I'm in!
Cubby: Still skeptical at 100mph for a person on the street. Also does not like having to 'unlock' top speeds.
Cubby: Wow! That thing IS big!
Getting a lot of texts and email that Traxxas pages are not loading, and can we post the specs please.. so here you go. People want to know the scale, it's 1/7 scale. (1:7 scale). Available December 30th!. Suggested retail $1099, street prices probably $999.

XO-1 (#6407) SPECS
Length: 27 inches (686mm)
Front Track: 11.61 inches (295mm)
Rear Track: 11.81 inches (300mm)
Center Ground Clearance: 0.59 inches (15mm)
Weight: 8.6 lbs (3.9 kg) (w/o batteries) 10.3 lbs (4.67 kg) (with batteries)
Height (overall): 5 inches (127.5mm)
Wheelbase: 15.91 inches (404mm)
Front Shock Length: 3.27 inches (83mm)
Rear Shock Length: 3.39 inches (86mm)
Front Tires (pre-glued): Belted Slick Front (4.29″ x 1.7″)
Rear Tires (pre-glued): Belted Slick Rear (4.29″ x 2″)
Front Wheels: 3.3″ Split-Spoke™ (black-chrome) with 17mm splined hex
Rear Wheels: 3.3″ Split-Spoke™ (black-chrome) with 17mm splined hex
Speed Control Type: Castle Mamba Monster Extreme Forward/Reverse/Brake
Motor (electric): Traxxas Big Block Brushless (1650 Kv), Powered by Castle
Transmission: Single-Speed
Overall Drive Ratio: 9.36 (stock, out-of-box)
Differential Type: Sealed Hardened Steel Bevel
Gear Pitch: Module 1.0
Chassis Structure/Material: 3mm Plate, Dual Plane, 6061-T6 Aluminum
Brake Type: Electronic
Drive System: Shaft-Driven 4WD
Steering: Bellcrank
Radio System: TQi™ 2.4GHz Radio System with TQi Docking Base
Top Speed: 100+mph
Skill Level: 10
Battery Tray Dimensions: 155mm x 50mm x 29mm (adjustable height and length)
Included Batteries: Two Traxxas Power Cell LiPo
Batteries (LiPo, 3-Cell 5,000 mAh)
Required Batteries & Charger: 4 "AA" (transmitter) LiPo Battery Charger


Cool shot… gonna need those lights real also please!