Traxxas XO-1 Questions with Peter V.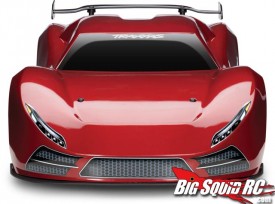 Adding to our Traxxas XO-1 Coverage we got to ask Peter V. over at Traxxas a few questions about the car. Here are his responses.
Big Squid: Some of the video shots look like it has lights. Will there be a light kit available when it ships? Is this later down the road?
Peter V. : XO-1 does not currently have lights out of the box or as an accessory light kit. But that would be pretty cool…
Big Squid: This is a pretty custom body. Will there be other bodies planned that will fit this chassis in the near future? Besides a clear XO-1?
Peter V. : The XO-1's unique size and aerodynamic requirements rule out existing aftermarket bodies, so we will be developing our own designs to fit the XO-1 and maintain its 100+mph performance and stability.
Big Squid: Will there be some Android love? Or Apple iOS only?
Peter V. : Apple iOS only. Remember, you don't need a phone, you can use an iPod touch. Older generation iPod touches are compatible, and you can find them inexpensively on eBay or Craigslist. Even if you purchase a new iPod touch just to use with your TQi radio system, you'll be spending less than you would on a comparable pro-level radio system-but "comparable" isn't really a fair word to use, since nothing compares to the TQi when you add your Apple device. You'll have more features, more
adjustability (and easier adjustability), way more memory, and a far, far better display than any transmitter currently offered–plus telemetry. Plus all the functionality of the iPhone or iPod! Try watching a movie, surfing the web, listening to music, texting your girlfriend, or ordering a pizza with any other transmitter. Even if you're a hardcore Android fan, you're not going to want to miss out on the features of Traxxas Link. Get an iPod touch, plug it into the Docking Base, and consider it to be part of the transmitter.
Big Squid: How many colors available at launch?
Peter V. : We've got black, silver, red, and blue. The colors are metallic, with a really fine
"flake" to them. They look great on video and in photos, but in person, they really
pop.
Big Squid: Is it waterproof?
Peter V. : The receiver box and steering servo are waterproof, but the power system is not currently waterproof, so we don't say the XO-1 is a "waterproof" model.
Thanks for the time and answers Peter V. !
Make sure to hit this link for all your Traxxas XO-1 news.