The Traxxas XO-1 Review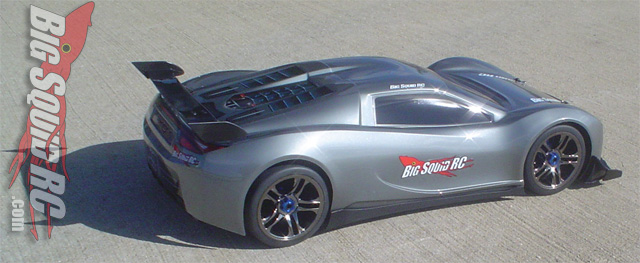 We finally got our hands on the Traxxas XO-1, easily one of the most talked about car releases of the year. This was Traxxas's answer for a Supercar. There was controversy from the beginning, and there was also a lot of praise. This is probably the most anticipated and honest reviews of the Traxxas XO-1 you will find, so lets dive into the review and see how it rates with Big Squid RC.
From: Traxxas
Direct Link: Traxxas XO-1
Specs- –
Scale- 1/7th
Colors- Red, Silver, Black, Blue
Kit or RTR- RTR
Length- 27 inches (686mm)
Width- 11.81 inches (300mm)
Motor- Traxxas Big Block Brushless (Castle Creations) (1650 Kv)
Speedo- Castle Mamba Monster Extreme
Radio- TQi 2.4GHz Radio System with TQi Docking Base
Waterproof- Receiver box and steering servo only.
Weight- 10.3 lbs (4.67 kg) (with batteries)
Street Price- $1099
Primary Competition– That depends where you are going to put it. Is it a dragster? Is it an on-road car? There really isn't any other rc 'Supercars' on the market at the moment.
If you are looking for a 1/7th scale to compare it to you have the Hot Bodies Lightning Street or the Ofna 1/7 DM-1 (DM-One) Pro on-road touring car.
What's In The Box– The XO-1 comes RTR with two 3s Traxxas Lipo batteries and the new TQi 2.4GHz Radio System. It also has the larger high-speed pinion and down force front splitter. You'll need a charger and AA's for the Transmitter.
Build Quality– The build quality out of the box was very good. Nothing seemed loose, over tightened or stripped.
Test Drivers– Brian, Wrench, Cubby, Adam the Intern
Test Venues– Big Squid RC Long Jump and High Speed Test Road, Neighborhood cul-de-sac, streets, parking lots, a newly constructed shipping warehouse with a 2 block long docking bay, and a skate park!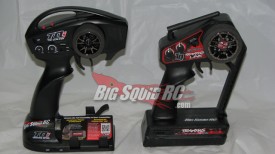 Radio: The XO-1 comes with the new Traxxas TQi transmitter. Sadly, it does not feel much different than the standard Traxxas TQ radio in your hand. You can read our issues with the older TQ model in our radio shootout here. We feel this would of been a great opportunity to change/fix the feel as well as their setup/menu system, but they didn't. Without a iPhone it is still painful to navigate.
They did add the iPhone docking system which lets you use the Traxxas Link app. The app could be better, but hopefully it will continue to get upgrades and improvements, and that is something we like. The ability to keep improving! All the model memory and pictures is nice. We did originally have some issues like not being able to record our data, or see replays, but a recent update fixed these issues. Two current problems we have with the app. There is no manual. The online 'manual' is just the brochure, and there are some things we couldn't easily figure out how to do. Calling Traxxas can solve most problems or questions, but a online manual would be nice.
Our other issue was the last receiver update. Not paying attention, the app must of been updated on my phone at some point. I had been working with the XO-1 in the morning trying to test some things. I shut the car and radio off. Returned a couple minutes later, turned everything on and the Traxxas App had a message that said I needed to update the receiver software. I didn't want to. I wanted to keep working with EXACTLY the same vehicle I had been working with in the morning. I tried to avoid the update by clicking on different menus, shutting it off, and turning it on. Nothing. I was completely locked and had no choice but to let the software update my receiver. Now what if we were at some sort of event or a race. There you are getting ready to go out out the track when suddenly you are forced to update? (BTW the update took about 10 minutes). Have you ever tried to be 10 minutes late to a race? It does not go over well with anyone. And what if it changed the settings? What if you had everything completely dialed? And now you don't know what it changed or what it fixed? Sorry to go off on a tangent about this but I have written a lot of software interfaces, so it hits close to home and was slightly annoying.
The real-time telemetry of rpm, battery and speed are nice features. The iPhone is a bit tough to see out in the sun, and when you are doing 50+mph you don't have a whole lot of time to take your eyes off your car anyway.
Suspension– The stock suspension system is tough. There is a lot of aluminum throughout the whole suspension system and the anodized GTR shocks held up well to our abuse. From rough parking lots to us being us and jumping the XO-1 at the skate park.
Tires– The slick belted tires were hard. Very hard actually. There was no chance of these ballooning or getting out of shape during the high speed passes. Due to the weather (it's winter here in the Chicago area.. who releases a on-road supercar in the winter? Might as well be a boat. LOL, sorry, one for the Traxxas guys.. hey we all don't live where it's hot and sunny!), it was VERY cold during most of our testing. Temperatures have ranged from 20 to 40 degrees. And this is a WARM winter. So warming up the tires was near impossible. The pavement was usually right around freezing as well, so traction did prove difficult. On a warm day with a hot road under the rubber things would be very different.
Power– The Traxxas/Castle Big Block brushless motor is basically ridiculous. The amount of power this thing can throw out is incredible. It's huge, it's heavy, and it's a beast. The ESC is basically a Mamba Monster Speed Controller with some extra caps on it, and we all know that thing can dish out the power as well. To get the 100+ mph high speeds Traxxas includes a huge 32 tooth pinion gear. The combination of all this power and the huge gear did result in some cogging (stuttering) issues at low speeds. Trying to get rolling off the line, or drive slowly around would make sounds you really don't want to hear. Cogging like this can take a serious toll on the whole power system from batteries to the motor. Hopefully with some work in software and gearing it can be smoothed out.
Looks– In person the body is ok. Sure most supercars are single color paint jobs, but we would of liked to see at least one 'different' paint job, not just red, blue, black.. something with a little more color, the Lambo yellow or green. A two tone Bugatti look would be been great. The chassis is impressive. You can tell a lot of thought and design went into it as well as probably a lot of testing and tweaking. Anywhere we brought it it turned heads and gathered crowds. The size is impressive and seems about right. We have some comparison pictures with our 1/7th scale Hot Bodies Lightning Street to give you an idea, as well as a standard slash.
Broken Parts– The XO-1 is an amazingly durable vehicle. None of us expected it to take the abuse we have put it through and have it still rolling. We have only broken the high-speed front splitter and a small part off the front of the chassis. The body has it's serious share of road rash. We have crashed this vehicle multiple times at speeds over 60mph where it's not only flipped and slid, but went flying off road and tumbling through the air. It's been slammed into curbs, jumped off ramps, and we even played demolition derby where a Slash kept using it as a ramp head on! And in cold/winter conditions, we honestly can't believe more parts are not broken. This thing is truly Traxxas tough! Nobody would of guessed you can bash with it, but you can.
High Speed Runs– Our high-speed runs had issues. We tried multiple times at multiple locations on multiple days. Our top recorded radar speed was just over 80mph. There is no doubt that temperature and wind played a huge factor and caused us trouble. The pavement was freezing, the tires were cold, and as soon as we would hit those top speeds we were spinning out of control. Interestingly enough, after we broke our high-speed splitter, and put the original back on, we did seem to have more control. The amount of time it takes to get up to the high speeds is quick, but not OMG quick. Several of us own rc dragsters. My King Squid can do 0-100mph in under 2 seconds and in only 132 feet. The XO-1 has a throttle curve you can feel and it takes some time (over 5 seconds) to get up to top speed, and a LOT more distance. (Traxxas recommends 1000 feet) We would start pretty far down the straight.. drive towards ourselves and probably pass the person driving at about 50mph so you could still see the car when you were reaching the top speed, and have room to slow down and attempt to stop. Is it the fastest rc production car made? Absolutely. Are you going to leave every other RC car (that isn't purpose built dragster) in the dust? Heck ya. If you are looking to RULE your local bash spot or block, this is the car you need. Do we believe it can go much faster? For sure. In ideal conditions you should be able to get really close to that 100mph mark, we just never had the perfect conditions we needed.
Price– $1099 (before tax) is a big chunk of change. Super Cars are not meant for everyone, and you should probably keep that in mind. Just like the real world, not everyone can afford a Bugatti or Ferrari, but everyone would like one. Everyone in the office has mixed feelings about the price. Closer to $700 would of been nice. Other 1/7th scale vehicles have hit the market for around $600. That being said, the Castle system alone would probably cost you $400. Throw in a radio, 2 3a lipo's and a big car and it adds up quick! There are a lot of people paying $700 plus for monster trucks and truggies, but another $400 over a brushless E-Revo forces a lot of people out.
Best Mod Under $5– Stickers and paint. Add a little flair, or some bling. Make it your own.
Final Thoughts– We thought we would give you some overall thoughts and comments from the individual crew:
Adam the Intern: The xo-1 is an absolute rush to drive and its really a lot of fun to bash! There are a lot of things traxxas got right but a few that could have been a little better for the price. First off the car should have been designed with a two speed transmission! It would have made the car absolutly amazing because the car would have had insane torque and still would reach the wanted top speed. Also the remote could have been a little more adaptable, because not everyone has an iphone/ipod touch. Traxxas also left out one of their biggest features… Waterproofing the whole thing!? I mean it could have been done, but other than those minor issues the car is preaty sweet but scary to bash.
Cubby:
I guess what really matters to me about the XO-1 is- did it meet my expectations?
So what exactly was I expecting? The car has Traxxas stamped on it, so I was expecting it to be durable. The box has 100 mph stamped on it, so I expected it to be the fastest "out of the box" rc car I've ever driven. Because it's advertised as a "Supercar", I was expecting it to absolutely own every cul de sac in the country.
So… did the XO-1 meet my expectations?
The car was more durable than I would have expected. Sure it's made by Traxxas, a name known for torturability, but any car with that much power I expected to be a pile of rubble before we were done testing it. At the end of testing our XO-1 is scratched and dented, but is still in one piece and drivable, a fact I would not have believed to be even remotely possible.
Is the XO-1 the fastest RC I've ever driven out of the box? Simply put, yes. I have never driven another "out of the box" rc car with remotely as much pure power as the XO-1.
Does it own the local cul de sac and parking lot? Once again the answer is yes. You can not walk into a hobby shop and buy another stock rc that is going to beat the XO-1. It turns good enough to get the job done, and it has Warp 6 on tap should you just want to mash it and walk away from the local fast guy.
However… I don't own an XO-1, nor do I plan to. The XO-1 excels at bashing on pavement, not something that I personally love to do. But… if pavement bashing is your thing, and you instantly want to pwn the local bash spot, the Traxxas XO-1 is THE weapon to own, it is King of the Hill for on road bashing. Period.
Brian: Originally the look didn't 'wow' me, and for a Supercar with a supercar price, I expect to be wowed. I thought the price could of been a few hundred cheaper. And I would of been happier. The more wheel time I got with it, the more I like it. I'm not worried it's going to break, and I can get out there and mash on it as hard as I want. The drive train has been tough, and you can break the tires loose at just about any speed and not worry. I like the 1/7th scale. The HB Lightning was probably my all time favorite on-road vehicle, and in my top 10 for overall fun vehicles. With a vehicle this size, the weight/mass allow physics to become more realistic. Drifting turns from pushing all that weight around a corner can be a real blast with no need for plastic tires. Hearing this thing speed by at a high speed is one of those sounds you just don't get used to. I still can't believe we are giving it away, I bet it's a whole different beast on a hot day.
Traxxas has a TON of warnings on the box, in the manual, online, and anywhere else you look and they are all probably legit. This is a HUGE vehicle moving at an insane rate of speed and could get dangerous quickly.
Here is one of their warnings:
The XO-1 is the world's first Ready-To-Race radio controlled car, capable of speed that exceeds 100mph. Driving at 100mph should never be done casually, without careful thought and preparation. Operating the XO-1 in a careless, unsafe manner, without adequate care and preparation, can result in collisions with catastrophic consequences such as serious injury or death. Know your limits and act accordingly.
Wow.. not many RC on-road cars claim the possibility of death.
---
As with all of our stuff, if you see us at a bash, stop by and check out the vehicles we have with us. We may let you take a test drive, and at the very least get you some stickers!
SUMMARY
Time To Bash – 9.0/10 -To get to top speed you'll need to do some gear work and phone unlocking.
Workability – 9.0/10 – Everything was easy to work on. There are a bunch of options you have to dial it just how you like it.
Car Show Rating – 8.5/10 – The paint is nothing special. The body style is ok and mostly for aerodynamics. A licensed supercar body would of been cool.
Bash-A-Bility – 9.5/10 – We broke a couple of minor things, but really expected MUCH more damage. It's a tough car!
Fun Factor – 9.0/10 – It's fun, but you go from fun to serious in a hurry. The size and speed are no joke.
Handling – 8.5/10 – We were getting pretty squirrelly at high speeds, but weather was probably a big factor
Power- 9.5/10 – An insane amount of power, but that cogging needs to be resolved.
Value- 8.0/10 – Supercars are not cheap, but a little cheaper would of been nice.
Big Squid Rating – 8.8/10 – Tentacles..If you can afford it, you will be the king of your bash spot for sure with the fastest RTR vehicle released. Also big props to Traxxas for the amount of attention this vehicle brought TO the rc industry from the outside. Every news site on the planet covered it's announcement.
Don't forget to check out the XO-1 Unboxing photos if you need some more pictures.