Unboxing – Carisma M48S Porsche 959 Rally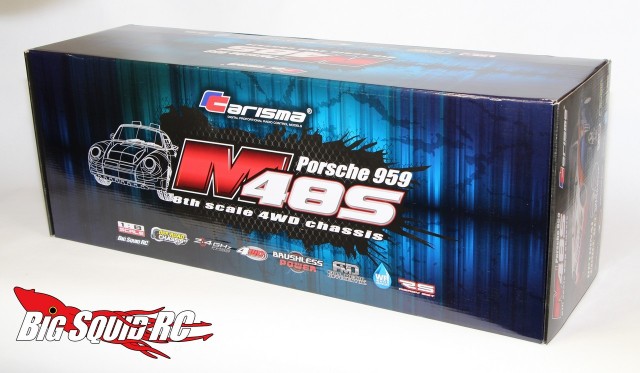 Ever since we first laid eyes on the Carisma M48S Porsche 959 Rally Car, we've been biting at the bit to get our hands on one. Well, we finally got one in at the BSRC Bash Compound, and today we are posting unboxing pictures so you can see exactly what it looks like when you crack the box open.
In hand, the Carisma is a stunner, the pictures below do not do justice to how good it looks. The body is highly detailed, with the appropriate stickers already applied to give it the same look as the classic full scale rally car. The Porsche 959 is also the first car we've ever tested that has come out of the box with plastic, highly detailed windshield wipers, doors handles, and rear view mirrors.
Under the hood you'll find a water resistant brushless power plant mated to a 4wd system. The 959 comes with a metal chassis and a big front bumper that should fend off some pretty gnarly hits. Our testing is fully underway, hopefully we'll have the review done for next week to let you know if it can take a legit bashing.
If you don't want to wait for the review, you can get your hands on one right now at This Link over on the Falcon Hobby Supply website.
Click Here for yet another BSRC Friday Mystery Link.
Hit the "Read More" button for two more galleries of unboxing pictures.