Unboxing – Duratrax 3.8 Hatchet MT Pre-Mounted Tires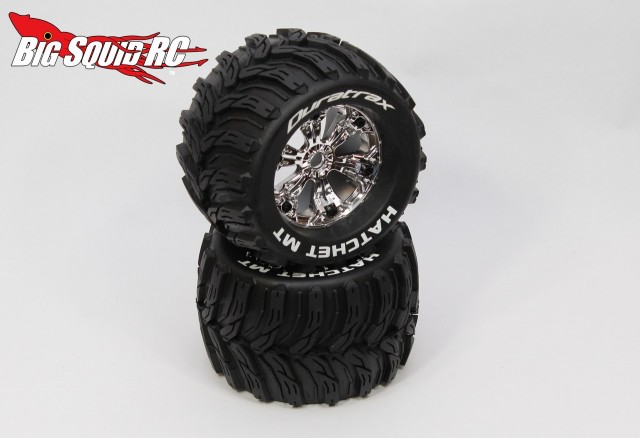 There was one tire that stood out after the announcement of Duratrax's new 3.8 Monster Truck Tire line-up, the Hatchet MT. You see, the Hatchet uses a scale inspired chevron style tread that looks like the tires on a full size monster truck, and they should do a great job of shoveling mud/dirt/gravel while out bashing. Luckily it wasn't long and we had a set for testing in our hands.
We received the pre-mounted version of the Hatchet MT on chrome wheels. They come packaged like most tires today, in re-sealable plastic bag, and the wheels/tires were pre-glued and ready to be mounted to a vehicle. We are big fans of pre-mounted wheels/tires because of how much time they save, we would rather by bashing than gluing. Also, we've found that the Hatchet MTs are some big beefy tires. When placed next to a stock tire off a Thunder Tiger MT4-G3, they are slightly shorter, but much wider, and with very deep tread.
We've already been bashing with the Hatchet MTs, but our full review is still a few weeks away. To get full details on the Hatchet MTs, plus all the other 3.8″ monster truck tires that Duratrax makes, simply hit up This Link.
Click Here for a BigSquidRC TGIF Bunny Powered Mystery Link.