Unboxing – Kyosho AXXE iReceiver Sand Buggy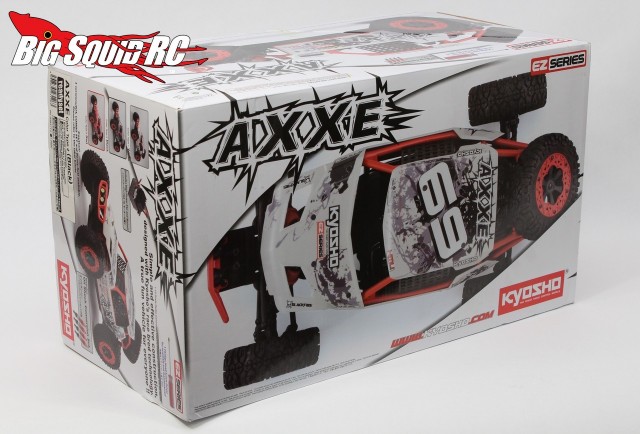 The Kyosho AXXE iReceiver Sand Buggy will be a historic vehicle for BigSquidRC. Why? Because it will be the first review we've ever done on a fully FPV surface machine. While there is a version of the AXXE that does come with a normal 2.4GHz transmitter, we'll be reviewing the Wireless LAN Version with the optional camera.
Our AXXE did not come with a transmitter, nor will it ever use one. To control the buggy we'll be using a variety of smart phones and tablets. Once we download the proper apps from the Apple store and Google Play, both the steering and throttle controls will come up on our devices. Also, because we are going to review the optional iReceiver camera, we'll have a live video feed from the on-board camera being displayed on our devices for a full FPV experience.
The AXXE is part of Kyosho's EZ Series, a budget line intended to get new people into the hobby. You won't find any fancy brushless power system or even oil shocks on the AXXE, but it does offer cool styling and of course the cutting edge wirless LAN set-up. The AXXE is available without any type of transmitter for just $99, while a version with a 2.4GHz radio costs $139, and the wireless LAN version (without camera) goes for $159.
Our full review will be going up in the next two weeks, if you want more information on the various versions of the Kyosho AXXE hit up This Link on the official Kyosho website.
Want more unboxings? Click Here for more on BigSquidRC.