Unboxing – Pro-Line Pro-2 Short Course Truck Kit #4001-00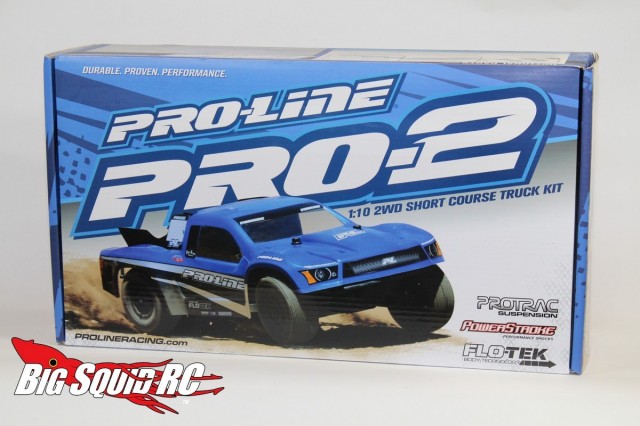 For years rc'ers have had dreams about a day when Pro-Line might put a full blown kit on the market. Well that day is finally here! The first vehicle to come out of the Pro-Line compound is called the Pro-2 1:10th 2wd Short Course Truck Kit.
Below you will find detailed unboxing pictures. The Pro-2 actually comes partially assembled, making it a lot faster to put together than a traditional kit. The tranny is fully built and already mounted to the chassis, and the shocks are fully built needing just oil to be fully operational. The tires/wheels even come pre-glued saving even more time. What you see in the pictures below is exactly how it comes out of the box.
The Pro-Line Pro-2 comes with all the quality parts that have been available separately for months now. For instance, the Pro-2 comes with championship winning Blockade tires and a Flo-Tek body. The tranny is the same high quality unit that's been available for just over a year now. The suspension consists of the Pro-Line ProTrac kit with PowerStroke shocks. The Pro-2 is all the uber parts that Pro-Line made to replace Traxxas Slash parts, all put into one box resulting in a high-end 2wd short course truck.
The part number for the Pro-Line Pro-2 is #4001-00, street price is $389, and it should be available at your local hobby shop sometime in mid-September. Enjoy our unboxing pictures for now, we are still thrashing our test unit with our full review going up next Tuesday, August 27th.