Unboxing – Team Durango DEX210v2 Buggy Kit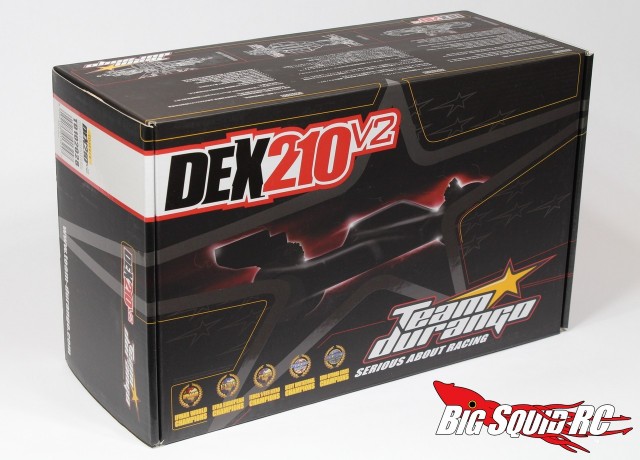 Team Durango, the relatively young company known for their high end race machines, recently announced their latest weapon for the 2wd buggy class, the DEX210v2. We recently got one in our hands, as we cracked it open we took pictures to show you what it looks like inside the box. The 210v2 is a kit, so inside you'll find multiple bags filled with parts, a nice looking aluminum chassis, wheels, and a clear body/wing. All the part bags are clearly labeled, and after thumbing through the manual, it looks clearly written with sharp images to make the build easier.
We are almost done building the 210v2, look for our full review in about 2 weeks. We won't be racing the buggy, instead we'll be giving it the full basher treatment to see if it can be used outside a track just for fun. We will be building it in a mid-motor configuration to keep from destroying any motors on those big rear end landings, and in the last picture below you can see the Duratrax tires and TrakPower shorty LiPo that we selected to run in the buggy. Click Right Here to get full information on the 210v2 over on the official Durango website.
Can't get enough unboxings? Get more at This Link on BigSquidRC.