Unboxing the HPI Racing Mini Trophy Truck – Exclusive!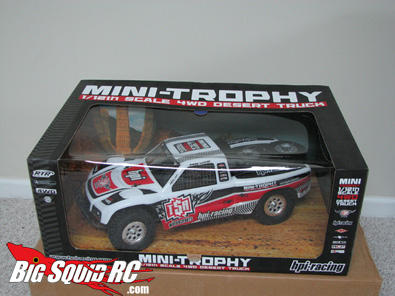 Here it is folks, live and in the flesh, the HPI Mini Trophy Truck! I think it's safe to say this is probably the most anticipated RC truck in a long time! Everywhere you go, people are talking about it, so it's our honor to bring you this exclusive first unboxing.
First off, the packaging is amazing! Whoever designed it, give that person a raise! The way the radio and parts are 'hidden' inside the box so all you see is the truck in the off-road setting is really impressive looking. This look is going to sell trucks at the hobby shops!
HPI Racing Mini Trophy Truck Package Gallery
Does anyone else call it the MTT or is that pretty much just Cubby? He's already labeled the driver 'Mini Cubby'. He hasn't let the thing out of his site, and rambling about how Mini Cubby is going to need a custom helmet paint job.
HPI Racing Mini Trophy Truck Gallery
A lot of buzz on the net has been about how do you get the batteries in the thing, and how do you work on stuff with the body and roll cage? We have plenty of pics to show you, click through to see the rest, so we don't clutter the front page.
HPI Racing Mini Trophy Truck Body Off Gallery
HPI Racing Mini Trophy Truck Open Up Gallery
In pictures 31 and 33 you can see the alternate placement for the rear shocks to be mounted.
HPI Racing Mini Trophy Truck Gallery
So how does it compare to the Blitz in size and look? Here ya go!
HPI Racing Mini Trophy Truck Comparison Gallery
So what have we learned?
It looks awesome in person.
The batteries slide in the back under a hinged door that the tires sit on.
The rear shock adjustments on the back are pretty significant changes.
Little Cubby needs a paint job.
The tires on the back are not real, just plastic for looks.
Receiver sits under the driver, and the center gear box sits under the navigator.
Videos, Driving Impressions, and full review coming soon!
PS: Please link back to the original story here when you talk about it in the forums. Thanks for your support!
Check out the HPI web site for more info.