Short Course just got… shorter? The smallest Short Course Truck (SCT) to date is debuted with the Team Losi 1/24 scale SCT. The box is typical of the Losi Micro with the product clearly displayed through the clear window with the radio and accessories tucked away inside. It's a full Ready To Run (RTR) that requires no assembly of the car. Just screw in the transmitter antenna, install the included AA batteries, and charge up the 220mah 4.8v NIMH stick pack with the included A/C wall charger (1 hour). I received the truck at work today and the overall impression was "Hey, that thing looks cool!" followed by an immediate "How much is one of those?" The street price of $109 was considered fair by all given you get everything you need and it is ready to go out of the box.
The familiar combo receiver/ESC from other Losi Micros is installed. Again, the antenna is the basic wire antenna straight out of the receiver all the way out the top of the truck. Still no protective tube or wrapping for the receiver antenna. The transmitter is the same unit provided with previous micros. Features of the radio include trims, steering dual rate, and servo reversing switches.
New features include threaded axles instead of the dreaded e-clips, adjustable coil-over oil shocks, and an easy access battery door. The battery door is nice as now you won't need to deal with working with those teeny tiny body clips and can do a battery swap straight out the bottom of the chassis. The SCT and Rally include a new battery form factor that is more like a stick pack. I'll need to measure it to confirm what all will fit inside there; I'm not sure previous micro batteries are going to fit.
The final picture is of the SCT next to the 1/36 Desert Truck for comparison. Losi also threw in a pair of corner dots though there is no mention of it on the box or in the manual (parents that buy these SCTs may end up flipping through their manuals a few times wondering what the heck these "Black Dots" are).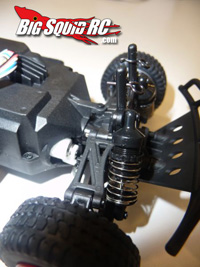 Next stop, a performance review and field test. Can 4 of these survive racing in the hands of new comers who've never laid hands on an R/C Transmitter? We'll know in a few days, stay tuned!
Check out the unboxing photo's of the Losi Micro Rally Car Here!