Unboxing – Vaterra Swift Justice 2012 CHP Chevrolet Camaro ZL-1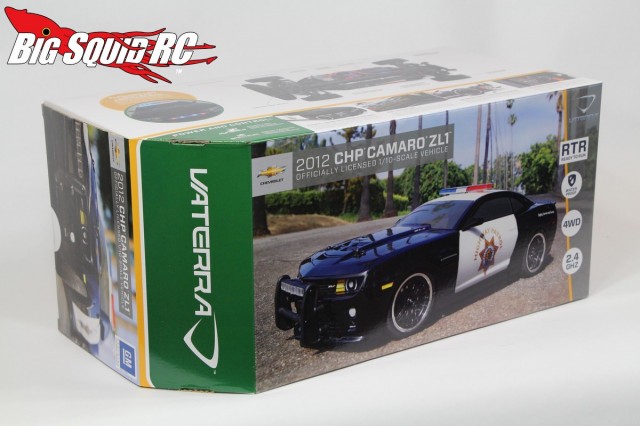 Vaterra has a small fleet of on-road cars but perhaps the one that has garnered the most attention is the 2012 CHP Chevrolet Camaro ZL1 police car. Also known as the Swift Justice car, it has gained attention from its incredible scale detail and working lights.
Take a look at the pictures below to see what it looks like to pull it out of the box. Inside you'll find a Spektrum transmitter, battery charger, manual, misc hardware/tools, as well as four AA batteries for the radio. The battery for the car comes pre-mounted in the battery tray.
The biggest thing we came away with during the unboxing was that pictures do not do this car justice. It looks gorgeous, it's a car that could win a concours competition right out of the box. There is an amazing amount of detail in the lexan molding and decals, as well as its wheels/tires/brakes.
Our full review goes up Tuesday October 15th, until then you can hit up This Link for more information.
Click Here for more Vaterra news on BigSquidRC.
Hit the "Read More" Button to see two more galleries of pictures from the unboxing.