Uni Filter products now available through TGN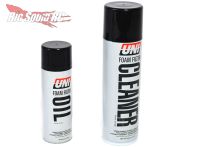 Team Gonads… er… I mean TGN Distributing is now carrying Uni Filter products for use with your large scale gas powered engines.  Uni Filter has been in the foam air filter business since 1971, so it's probably pretty safe to say that they know what they're doing.  Right now you can pick up Uni Filter's Air Filter Cleaner and Air Filter Oil in aerosol cans for pretty cheap.
Drop by the TGN web site for some more info.
hehehehe… I said Gonads…