Upcoming Bash Event – RC Fest in Tolono IL, August 10th 2013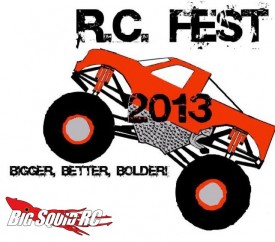 If you live in the Midwest you might be interested in attending the RC Fest bash in Tolono Illinois on August 10th. Tolono Illinois is centrally located about 3 hours north of St Louis, about two and a half hours south of Chicago, and roughly two and a half hours west of Indianapolis.
RC Fest has no entry fee and any proceeds raised go to the Community Blood Services of Illinois. The young man behind the event, Adam Munds, needed a blood transfusion when he was just a baby to save his life, now Adam and his parents are huge advocates of blood donation. RC Fest is about having fun while rc bashing, but it's also about raising awareness for blood donation.
The event kicks off at 10 am on August 10th with three different classes- 2wd, 4wd and Open. Events include- tug of war, racing, speed runs, freestyle, high jump, and truck pull.
The BigSquidRC Bash Crew will be there in force to support and cover the event, we hope you guys come out and join in the fun too. For the full scoop on RC Fest simply click THIS LINK.
Looking for another bash to hit this summer? Don't forget about our BigSquidRC Summer Bash & Swap Meet coming up on August 3rd in Chicago. Click Here for complete information.