Updated ECX Torment SCT 2.4 GHz RTR Review
THE Updated ECX Torment 2.4 Ghz RTR Review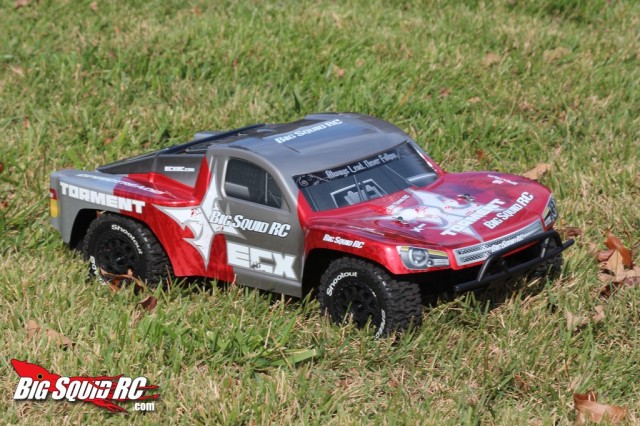 It's been just over a year since we initially reviewed the ECX Torment short course truck, since then ECX has made some updates to take care of old issues and to make the truck even better. Among the updates were- waterproof electronics, heavier drive-shafts, a quick battery charger, and a faster motor. Is the new Torment a better bash machine? Let's find out…

From: ECX
Direct Link: ECX Torment
Review By: Cubby
Pics by: Cubby
Specs: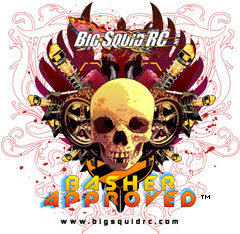 RTR or Kit: RTR
Age: 14 years +
2wd or 4wd: 2wd
Electric or Gas: Electric
Scale: 1/10th
Length: 20″
Height: 7.5″
Width: 11.6″
Wheelbase: 13.1″
Weight (truck measured by BSRC w/ Lipo Batt): 5.6 lbs
Top Speed (measured by BSRC): 20 mph w/ stock battery, 25 mph with 2S Lipo
Motor: Dynamite 15 Turn Brushed
Speed Controller: Dyanmite Tazer 15 turn
Radio: ECX 2.4 GHz
Tranny: 3 gear
Differential: Gear Diff
Slipper Clutch: Included
Driveshafts: Plastic Sliders
Shocks: Plastic, Oil Filled
Screws: Philips heads
Bearings: Full Set
Tires: Dynamite Speedtreads Shootout
Waterproof: Yes
Warranty: "Horizon Hobby warranties the product to be free of defects at the date of purchase."
Street Price: $190
Primary Competition: Traxxas Slash, Venom Gambler, HPI Blitz, ARRMA Fury, Associated SC10, Losi XXX-SCT
What's In The Box: Absolutely everything you need to get running including AA's for the transmitter, 6 cell Ni-MH battery for the truck, and fast charger.
Build Quality: Our review unit came with slightly tight pinion/spur mesh. We didn't find any loose or stripped screws, no shocks were leaking, and everything else looked well put together and adjusted properly.
Test Drivers: Cubby, Brian, Tim, Adam, Iron Mike
Test Venues: iHobby Demo Track Cleveland Ohio, RC Outlaws Track in Collinsville Illinois, backyard, CostCo parking lot
Set-up Notes: Bone stock except for the addition of Traxxas connectors. We used the included 6 cell Ni-MH pack on some runs, a Pro-Match 2S 5000 mah Lipo on others.
Turning: Some may vehicles have wayyyyy too much steering, while others hardly have any steering at all. The updated Torment turns just fine, the best way to describe its steering would be "easy to drive". Fairly neutral steering is a good thing no matter if you are a first day noob or a 30 year vet.
Jumping: All things considered the Torment jumps well. No, it's not a class leader in the jumping department, but it is predictable in the air and landings are soaked up fairly well by the suspension. You might expect a budget priced truck to jump like crap, but that is not the case here. In fact, it doesn't jump overall quite as well as a Traxxas Slash, but it isn't as far off.
Bumps/Whoops: The updated Torment is still under-damped out of the box, but it gets through the rough stuff fine. Add some heavier oil and it blows through the rough even better. If you are a noob it can inspire confidence as it tends to stay fairly straight and doesn't tend to get too jittery until the going gets insanely rough.
On-Road: At slower speeds the Torment doesn't traction roll, but put in a Lipo and crank the wheels hard at top speed then you can get it to flip. Otherwise, the Torment drives fine on pavement. It steers fairly neutrally and glides right over road-joints without issue. The Torment was not designed for road use, so no, it doesn't handle as well as an uber touring car, but for purely having fun it hits the mark.
Suspension: Works fine for bashing purposes. We'd like to have seen slightly heavier compression and rebound damping for more aggressive driving, thankfully that is quick, cheap, and easy enough to fix via heavier oil.
Tires: The included Dynamite Speedtreads Shootout tires worked fine giving decent grip on every surface we tested on. The foams are quite soft which helps get grip on low traction surfaces like loose dirt, yet the truck rarely traction rolled on pavement. Yes, if you are looking for uber grip you'll be bolting up a set of Pro-Line tires, but the stockers are certainly quite usable.
Power: While using the included 1800 mah Ni-Mh battery pack the power was very, very soft, which is fine for people just learning how to drive. The good part is that by popping in a decent 2S Lipo power was instantly much better with more low end spank and 5 mph greater top speed. No, it is nowhere in the league of a brushless powered truck, but with Lipo it is more than fast enough to have fun with.
Radio: The Spektrum unit that was used on our last review truck is now gone and has been replaced by an ECX branded transmitter. The new transmitter is exceptionally light and worked just fine for us. The trigger had a good fit and was generally well liked. The wheel is rubber covered and offers good grip. The pistol handle is molded plastic and felt fine. The only downsides were getting to the on/off switch via a cover that could be a pain at times, and the range. Range was fine for track and general use, but it wasn't nearly as long as other units we've tested.
Broken Parts: When we get a legit bash machine to review we immediately start scheming up torture tests to reduce it rubble. Our updated Torment was run through the entire gauntlet. Full speed smashes into a cement block wall, check. Jumped off two story roof, check. A half dozen testers driving it like they stole it, check. Driving it in a torrential rainstorm, check. Full speed into a concrete curb, check, Full speed into a utility pole, check. In fact, most of those were done numerous times in an attempt to destroy the Torment. Our testing is finally over and our Torment is still in one piece and working nearly as well as new. The only casualties were two spur gears and two shock caps that popped off. Not bad, not bad at all considering the severity of the bashing we put it through.
---
Best Mod Under $5: Easy, install Traxxas plugs, I am still not a fan of the EC3's Horizon is pushing. Another absolutely free mod is to break your motor in, check YouTube on how to water break-in the motor. Water dipping the stock brushed motor will yield better power and much longer motor life, I very highly recommend you do this if you want the motor to live more than a couple of weeks. And… just like the original Torment, I recommend putting in some thicker shock oil like 50 weight Associated.
Best Mod Over $5: Stepping up to Lipo. The stock pack yields enough power if you are a noob, but a Lipo makes it a lot more interesting if you already know how to drive.
---
Summary:
Time To Bash – 9/10 – ECX has included a new quick charger with the updated Torment, you can expect to hit the track in under an hour now.
Workability – 9/10 – I am not a fan of the Philips head screws, but overall the Torment is well laid out and easy to spin wrenches on.
Car Show Rating – 8.5/10 – The updated Torment is visually the same as the older model except for white lettered tires. Overall, a decent looking truck with nicely done graphics on the body.
Bash-A-Bility – 9/10 – We did huck the Torment off the tallest building we could find (a few times), and generally drove it like it owed us money. We busted a couple of parts, but overall it was a tough customer.
Fun Factor – 9/10 – There is something inherently fun about driving a low cost truck- your wallet is barely dented even if you have to take it home in a bucket. However, you can drive the Torment like you stole it and it rarely breaks, which is even more fun.
Handling – 8/10 – For bashing purposes the Torment drives well. It handles well on dirt tracks and pavement, it gets around in the grass well, and it jumps in a consistent manner.
Power – 8.5/10 – Using the included 6 cell Ni-MH the power is extremely soft, perfect for noob drivers. But… pop in a 2S Lipo and you've got enough power to make respectable sized jumps, spit massive roost, etc.
Value – 8/10 – The price tag has actually gone up $30 since our initial review. The waterproofing is a nice addition, so is the beefier drive-train.
BigSquid Rating – 8.6/10 – Tentacles. The updated Torment is a better overall truck than the previous model, but the price went up by $30. Still, if you are ooking for a truck for your son to bash with, the Torment is the ticket. Looking for a truck that you can smash/bash/crash/thrash and not worry if you tweak the chassis by 2 millimeters? The Torment is the truck for you. In fact the Torment is a solid overall bash machine that is worth the cash and should be in everyones rc garage. Without a shootout it would be impossible to declare the Torment the best 2wd SCT basher on the market, but I can say it is a great bash machine that would be tough to beat.