Updates from MST on the CMX scaler
Whats up gang, Evol here back from a pretty crazy weekend. I'm from the Kansas City area and this weekend our boys in blue (That's the Kansas City Royals) won the 2015 World Series. The celebration in Kansas City following the game was enormous. It completely shut down the city. The amazing part, no cars torched or buildings vandalized. Only 3 arrests out of 800,000 people. Nice going KC way to show some others how it's done.
Alright enough of that, lets get into the reason you clicked on this post. MST updates! We have been keeping a close eye on this one because it has a real chance to shake up the scaler market. When MST teased the CMX a couple of months ago people were pretty skeptical. These latest photos show that MST is listening to what people have to say about their products. These shots show the truck laid out with a forward weight bias. Some of the parts like the front bumper still seem preproduction. My early thoughts are that the axles still have HUGE pumpkins (a major complaint with axial based SCX axles) so I don't think that these will become the hot new axle to base your build on. Also the shocks look WAY huge. not very scale. Anyway I still have faith that MST can make a presentable product though so I'll reserve judgement until I get my hands on one. Still no release date set, they just say "soon".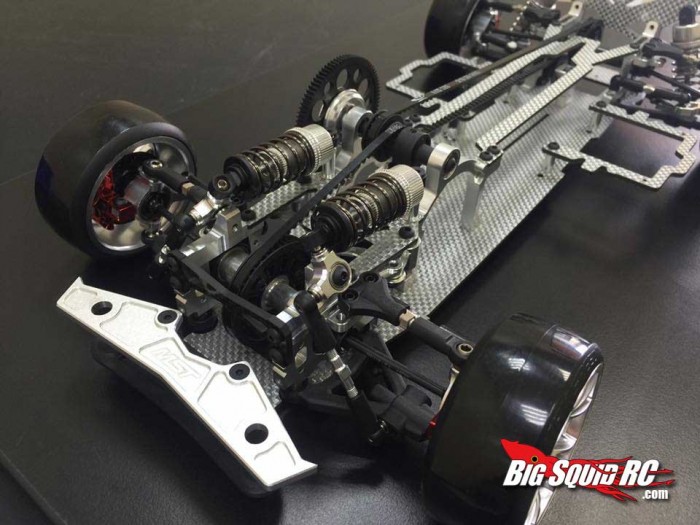 In other exciting MST news they also teased some updates for one of their oldest drift platforms. Yes thats right the MS01d is finally getting some much needed attention to bring it into the present of the RC Drift scene. The IFS (inboard front suspension) movement is quickly becoming the must have mod for drifters so I am glad that I can finally get on board with my own MS based car. Now I can put away those unclean thoughts of unloading one of the best drift cars I've ever driven and get back to bolting on exciting upgrades for it.
That's all I have for now gang. Have a great week and I'll try and keep you updated on anymore hot items.
-Evol
Click here for more Scale RC news on BigSquidRC.