Upgrading Your RTR Axial SCX10: Stage 3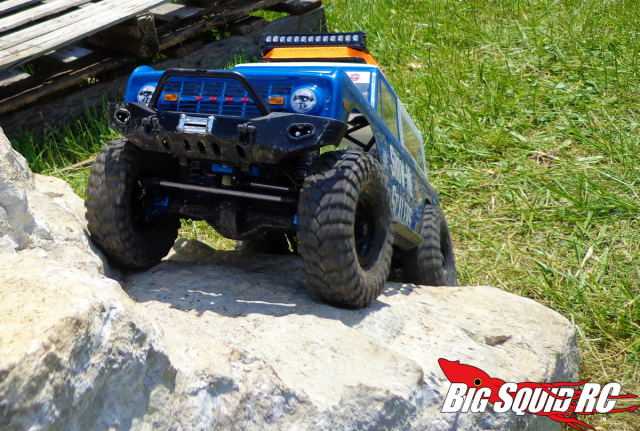 Click here to read Part 1 of this series or click here for Part 2.
The servo that comes with the RTR Axial SCX10 isn't bad for a stock unit, but the combination of running aluminum steering links (you upgraded, right?!) coupled with bigger and heavier tires/wheels make a servo upgrade a high priority. The factory unit is also decidedly NOT waterproof, which can be a huge negative depending on where you want to run.
Like everything else in this series, my recommendations are made based on what I've used "in the field". Without a doubt my personal favorite is the Hitec HS-5646WP Waterproof Servo (click here for full specs). It provides enough torque to easily turn 1.9 tires on the rocks (if you are sporting big 2.2's you may want something more powerful) and with a street price of around $50 the price to performance ratio is very nice. And while the light blue case is sealed and ready for the drink, the relatively low price point makes it MUCH easier to dunk with reckless abandon. Even though I've never had one fail on me it's still nice to know that if it did (hey, it happens when dealing with water and electronics) I wouldn't be out a couple C-notes.
The servo comes with a thick plastic horn that works very well with some slight modification. The stock bolt mounting hole just needs to be drilled/reamed out slightly and it will fit snug. The plastic is hardy enough that I've never had a breakage or stripping issue in over 14 months of heavy use (with 3 of these servos).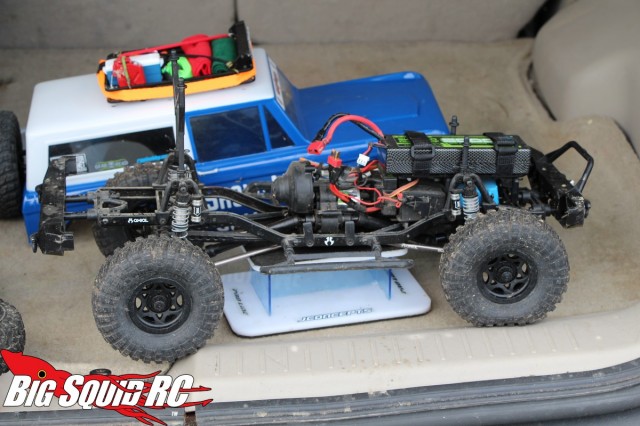 Ok, so lets talk battery placement. If you have a Trail Honcho you are fine (they come with the mount up front) but if you have the JK RTR you will need to relocate. The parts you need should be in your extra trees (they were for mine when I purchased one a year ago). Click here to check out an excellent guide on the procedure over at Axial's site. Getting that battery up front will make a huge difference when climbing.
So yeah, at this point you should have a serious trail machine. When we drop Part 4 of this guide we'll take a look at over/ under drive gears, what exactly they do, and if they are right for you.
Click Here for more Axial news on BigSquidRC.