Vampire Racing Type AB+ brushless motor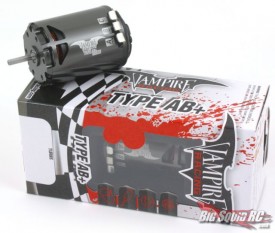 Vampire Racing is showing off the final iteration of their first brushless motor design.  Their new Type AB+ motor, which was first shown at this year's Nuremberg Toy Fair, has a few high-end features like a heavy-duty front bearing and a side-feed sensor plug.  The Type AB+ motors will be available in 4.5T to 8.5T.
Unfortunately there's no word on release time frame or cost, but  Vampire promises this motor will be a "real bargain."  Keep an eye on the Vampire Racing website for more info when it comes.