Vaterra Kalahari 14th Scale 4wd Desert Raider Review
THE Vaterra Kalahari 14th Scale 4wd Desert Raider Review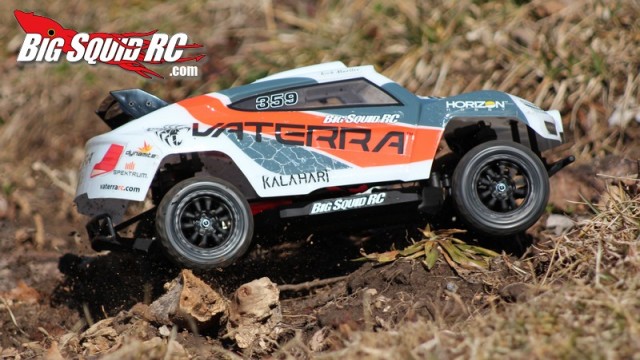 Vaterra is the newest name in the rc game and today we'll be taking a closer look at their Kalahari 14th Scale Desert Raider. The Kalahari comes with detailed scale looks, a brushless power system, and Spektrum 2.4 GHz radio gear, all the makings of a great bash machine. How does the Vaterra Kalahari stack up? Read on to find out exactly what we learned about the Kalahari after weeks of bash testing…
From: Vaterra
Direct Link: Kalahari Desert Raider
Unboxing Pictures: Unboxing the Kalahari
Review By: Cubby
Pics By: Cubby
Specs:
RTR or Kit: RTR
Age: 14+
2wd or 4wd: 4wd
Shaft or Belt: Shaft
Electric or Gas: Electric
Waterproof: Yes
Scale: 1/14th
Length: 13.18 in
Width: 7.08 in
Wheelbase: 8.27 in
Motor: Dynamite Fuze 280 4500 kv brushless
Speed Controller: Dynamite Fuze brushless
Low Voltage Cut-off: Yes
Radio: Spektrum DX2L 2.4 GHz
Differential: Gear front and rear
Slipper Clutch: Yes
Driveshafts: Bones
Gear Ratio: 2.46:1
Shocks: Plastic body, oil filled
Servo Saver: At servo
Screws: Hex
Spur/Pinion Pitch: 0.5 MOD
Bearings: Full set
Tires: Scale look, foam inserts
Battery: Dynamite 6 cell 7.2v Ni-MH 1200 mah
Charger: NiMH Peak wall charger included.
Part Number: VTR01001
Top Speed (measured by BSRC w/ 2S Lipo): 23 mph
Warranty on truck: "… will be free from defects in materials and workmanship at the date of purchase."
Battery Warranty: 1 year
Street Price: $290
Primary Competition: Traxxas 1/16th Slash
What's Needed To Complete: Nothing, everything you need comes in the box.
Build Quality: The Spektrum transmitter felt exceptionally nice for an RTR unit. The body on the Kalahari was exceptionally well done. The drive-train was nice and free spinning, wheels were properly tightened, and we didn't find any large pieces of flash on the plastic parts. The velcro used to secure the under-tray was loose and eventually fell off. The pinion/spur mesh on our Kalahari was spot-on.
Test Drivers: Cubby, Brian, Tim, "Iron" Mike, Sam "The Noob"
Test Venues: Slot and Wing Hobbies in Champaign Illinois, Dirtburners in St Louis Missouri, a city park and a cul-de-sac
Set-up Notes: We tested the Kalahari bone stock with the exception of using a Hyperion to charge the battery pack (instead of the included wall charger).
Turning: The front end is well planted on the Kalahari, but it's not as glued as the Vaterra Kemora. This is actually a good thing as the Kalahari corners more neutrally than the Kemora does. It doesn't have the mechanical grip of the Kemora, so its corner speeds aren't as high, but it easier to drive consistently around the corners.
Jumping: The 4wd system on the Kalahari aids greatly in making mid-air corrections, but the lack of damping in the shocks make take-offs and landings quite interesting. For example, if you hit a dirt jump with divots in the face you typically get kicked off the lip at a strange angle, typically requiring some mid-air correction to flatten out. When landing the suspension blows through its travel bottoming out hard. After bottoming out, the Kalahari has very little rebound damping, thus the truck tends to bounce a lot after hard landings.
Bumps/Whoops: The Kalahari does a lot of bouncing around in the rough stuff. While the springs are in the ballpark, the shock oil (water?) is way too thin, so the Kalahari blows through its suspension travel and has very little damping on the rebound side, resulting in a very bouncy ride in the rough.
On-Road: The Kalahari is a decent little pavement machine. It doesn't traction roll and has more than enough ground clearance and suspension travel to soak up bumps and road joints.
We also got a chance to test the Kalahari on a carpet on-road track. On a prepped high bite carpet track the Kalahari would traction roll, but after taking a few laps to get adjusted you quickly learned to not yank on the wheel.
Grass: You would think the little 14th scale Kalahari would have no shot of driving in grass, but that is not the case. In short grass the Kalahari can manage its way just fine. But… hit a patch of tall grass and all the fun comes to a quick halt.
Tires: The tires on the Kalahari are slightly smaller in diameter (but are wider) than those found on the Vaterra Kemora. The tread pattern looked quite scale, but because of its larger and more rounded off lugs, and less surface pressure because of their additional width, the tires on the Kalahari provided less mechanical grip than the Kemora tires. The smaller diameter of the Kalahari tires also hurt the trucks ability to get around in grass and over larger rocks/clods.
On the up side, the reduced mechanical grip of the Kalahari tires made it easier to drive on high bite surfaces than the Kemora. Where the Kemora might bite hard going into a corner and start 3 wheeling, requiring immediate correction to keep from crashing, the Kalahari tended to stay flat, making it easier to drive.
Power: Our Kalahari had more power than the Kemora we just reviewed. The Kalahari had 2 mph more speed on top and had more yank off the bottom. Both of these Vaterra vehicles use an identical power system, so it was a bit odd that the Kalahari was noticeably faster. But… even though it was noticeably faster, it was still quite slow for a brushless vehicle. The power off the bottom was quite soft (after it cogged from a dead stop), followed by a brief but snappy mid-range, ending in a short winded top end. If you are true noob there is enough power to get you into trouble, but if you are an experienced hobbyist you'll be looking to pop in a Lipo and get some real power kick'n.
Radio: We've gotten a lot of time in with the Spektrum DX2L lately and the more we use it the more we like it. For an RTR radio it's about as good as it gets. Ergo's are nice and range seemed better than previous Spektrum gear that we've used. The trigger is spot on for nearly everyone (fat finger guys found it tight), the wheel comes with foam, and the grip handle is quite comfortable. Also, the relationship between the wheel and trigger is light-years better than most RTR radios. Very nice. One final note about the radio, it does offer a low, medium, and high throttle setting allowing you to hand off the vehicle to a total newb and not worry about them going wide open into a curb.
Broken Parts: The Kalahari made it through our "normal" portion of testing without any breakage, so of course we had to step up our game. We ended up breaking two parts, the front bumper (part #VTR211009, $7) and one of the battery bar posts (part #VTR211002, $5). We broke both these parts on our first full speed slam straight into a cement block wall. But… I must add the ambient temp was only 23 degrees Fahrenheit. Cold days are tough on plastic parts no doubt.
Misc Notes:
The Kalahari came with a very nicely detailed body that obviously had a lot of work put into it. The wheels and tires also looked very scale. Mad props to the Vaterra crew for spending the extra time and money to put out a great looking vehicle.
Vaterra states that the Kalahari is "waterproof" and we would definitely agree with that statement. We drove the Kalahari in all sorts of water and nothing died. Some of the water we drove in was 6″ deep, more than enough to totally submerge all the electronics and running gear, and after proper post run maintenance our Kalahari shows no ill effects of being underwater.
The Kalahari comes with better than average body pins, but the holes in the body posts are too small, thus making them hard to put in. Also, the holes in the rear posts need to be rotated 90 degrees, the rear pins are even harder to put in because the rear wing gets in the way.
The Kalahari comes with exceptionally nice packaging and a model specific manual that is also quite well done. Someone at Vaterra spent a lot of time on these items and it shows.
Two extra spur gears in the box is a nice touch.
The stock servo saver is extremely soft but that's a good thing for servo life. And… normally a super soft servo saver is bad for steering, but the Kalahari had plenty, so it wasn't really an issue when driving.
Our Kalahari didn't cog as badly as the Kemora we just reviewed, but it was still there and still quite nasty.
Best Mod Under $5: No doubt, thicker shock oil for the win. I highly recommend a much heavier weight all the way around.
Best Mod Over $5: A Lipo battery instantly livens up the Kalahari.
---
Summary:
A = Outstanding/Best in Class, B = Above Average, C = Average, D = Below Average, F = Horrific
Time To Bash: B The included wall charger isn't that fast (just over an hour), but the Kalahari comes with everything you need to get going in the box.
Workability: B The 14th scale Vaterra platform is laid out well for wrenching and the hex hardware is nice.
Car Show Rating: B Nice scale looking body, wheels and tires.
Bash-A-Bility: B We had to go to the "extreme" portion of our testing to break the Kalahari. During the normal portion of our testing we slapped boards, tapped curbs, and hucked wood ramps to pavement for pack after pack with no breakage.
Fun Factor: C While the Vaterra is fun to bash with it would have scored much higher if it didn't cog and had more yank behind the trigger.
Handling: C Incredibly thin shock oil holds back the Kalahari's handling score. Also, while the tires on the Kalahari make it a more predictable turner than its brother car the Kemora, their smaller diameter and less aggressive tread hurt its handling in typical bash conditions like grass or loamy dirt.
Value: B Lets compare the Kalahari to its nearest "direct" competitor, the 16th scale brushed Slash. Both have similar wheelbases and widths, but the Slash is about $80 cheaper, doesn't come with brushless (but has arguably a superior power system out of the box), doesn't come with 2.4 GHz, and handles incredibly well. The Vaterra has incredible looks, takes a good beating, handles quite well, and is a Lipo battery away from having some serious power. We'd have to drive both back-to-back to clearly define a winner here, but as it stands we feel the Kalahari represents an above average value.
Parts Availability: C Parts are readily available on-line but it might be a while before most local hobby shops build up any stock. Both parts that we broke were in stock at A-Main and on Horizon's site, but were not in stock at any of our local hobby shops.
BigSquid Rating: B- We liked the Kalahari and it proved itself to be a solid basher. It withstood our normal abuse, loved being driven in mud-holes, and handled quite well for a 14th scale machine. The included Spektrum transmitter is stylish and a joy to use. The downsides it has (under damped suspension, low power output and cogging) are fairly easily (and cheaply) solved.