THE Vaterra Kemora 14th Scale 4wd Brushless Rally Car Review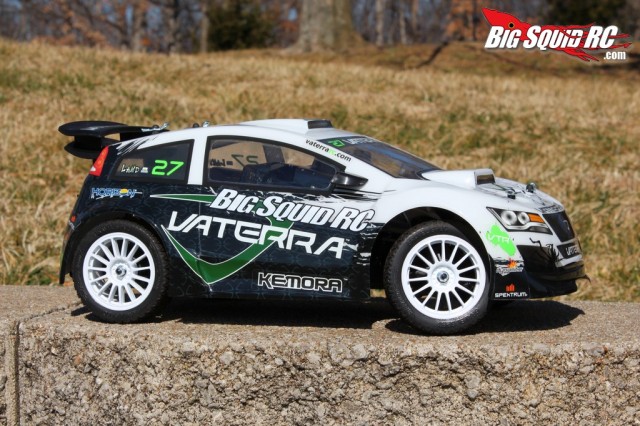 Vaterra made quite an impression when they introduced their entirely new line-up of vehicles at Nuremberg a couple of weeks ago. People went gaga over their uber scale looks and impressive specs. For our first Vaterra review we've been thrashing the heck out of the Kemora, a 14th scale rally car. Vaterra is a brand aimed right at bashers, what kind of first impression have they left on the BigSquidRC Bash Crew? Read on to find out…
From: Vaterra
Direct Link: Kemora Rally Car
Unboxing Pictures: Unboxing the Kemora
Review By: Cubby
Pics By: Cubby
Specs:
RTR or Kit: RTR
Age: 14+
2wd or 4wd: 4wd
Shaft or Belt: Shaft
Electric or Gas: Electric
Waterproof: Yes
Scale: 1/14th
Length: 13.19 in
Width: 7.15 in
Wheelbase: 8.27 in
Motor: Dynamite Fuze 280 4500 kv brushless
Speed Controller: Dynamite Fuze brushless
Low Voltage Cut-off: Yes
Radio: Spektrum DX2L 2.4 GHz
Differential: Gear front and rear
Slipper Clutch: Yes
Driveshafts: Bones
Gear Ratio: 2.46:1
Shocks: Plastic body, oil filled
Servo Saver: At servo
Screws: Hex
Spur/Pinion Pitch: 0.5 MOD
Bearings: Full set
Tires: Gravel spec, foam inserts
Battery: Dynamite 6 cell 7.2v Ni-MH 1200 mah
Part Number: #VTR01000
Top Speed (measured by BSRC w/ 2S Lipo): 21 mph
Warranty: "… will be free from defects in materials and workmanship at the date of purchase." Also note that the Dynamite Battery has a 1 year warranty.
Street Price: $289
Primary Competition: Traxxas 1/16th Rally
What's Needed To Complete: Nothing, zero, nada. Absolutely everything you need is in the box.
Build Quality: The transmitter felt exceptionally nice for an RTR unit. The body on the Kemora was also exceptionally well done. Our pinion/spur mesh came slightly too loose (more on this later) and two of the velcro pieces that kept the under-tray in place were loose. Drivetrain was nice and free spinning, wheels were properly tightened, and we didn't find any large pieces of flash on the plastic parts.
Test Drivers: Cubby, Brian, Tim, Iron Mike, and Sam The Noob
Test Venues: Dirtburners in St Louis Missouri, two different city parks, a backyard and a cul-de-sac.
Set-up Notes: We tested the car bone stock. We retained the EC3 connectors, but did not use the included wall charger, instead we opted for a Hyperion.
Turning: Excellent. No, the stock servo isn't fast, but the front end is planted and goes where you want it to. On dirt the steering is really very good, on pavement it can be a bit much. Our noob driver was not overwhelmed by the potent steering and could generally put the car where he wanted to without too much over-correction. Handing the reins over to the pro-driver guy, well, he looked amazingly dialed with it (ok, so he's that way with pretty much any car). The front end of the Kemora sticks well on almost any surface yet the rear end stays relatively well behaved.
Jumping: Better than expected. The low nose of the rally car often scrapes on take-off and the under damped shocks often bounce the car in a strange direction, but the 4wd system really helps with the mid-air corrections.
Bumps/Whoops: Hay wagon. The stock spring rates seem right on point but the shock oil is way too thin. The shocks simply blow through their travel too easily and rebound too quickly. This under-damping results in a ride that resembles a 9 year old kid after three Red Bulls on a trampoline (or a hay wagon in a rough field). Also, because this is a rally car, the nose often digs into bumps and ruts, effectively removing the suspension entirely from the equation. The good news here is shock oil is cheap, put in Dynamite 800cs all the way around.
On-Road: Fun but challenging. The Kemora has a lot of steering, combine that with a lot of body roll and good mechanical grip and you have a car that over responds to every steering input when driven on pavement. Is that horrible? It is a lot of fun, but makes it difficult to hit the exact line you are looking for. The Kemora doesn't traction roll (at least not without aid of a pot-hole or crevice), and gets better than expected mechanical grip out of the tires. If anything, it probably drives a whole lot like the full scale car would.
Grass: Better than expected. We really didn't expect the Kemora to be drivable in grass, but guess what, it manages just fine. No, it doesn't ignore grass like an HPI 5B would, but you do not instantly get high-centered in the green stuff. In fact, on shorter grass the Kemora is actually quite fun to drive.
Tires: Very good. Nice scale tread that worked better than expected on all surfaces. Nice mechanical grip on pavement, enough edges to keep you going in the grass, and soft enough to get grip on a hard packed dirt surface. The foams were quite soft which helped gain traction in the fluff.
Power: Cogging off the low end to a nice mid range snap to a very mellow 21 mph top speed. Yes, the Kemora comes with a brushless system but the stock Ni-MH pack really holds it back. There is enough yank for a noob to be impressed, for example our resident noob Sam got himself into trouble several times by the power. But… if you are an experienced hobbyist you will be putting a Lipo in ASAP.
Radio: The included Spektrum DX2L is an exceptionally nice RTR radio. Ergo's were very good, the trigger was spot on (except for those with exceptionally large/fat fingers), the grip was quite comfortable with a molded rubber area that matched up against the webbing of your hand, and the wheel was sport'n a foam donut. Rounded edges everywhere also helped make it extra comfy. The only thing we'd change would be a tackier foam on the wheel. Overall a very light and comfortable radio to use. Range also seemed better than other Spektrum units we've used, go figure, maybe they are finally getting that worked out.
Finally, the DS2L does have the ability to dial down the throttle (low, medium, high) so if you want to hand the radio over to a less experienced driver, and not worry too much about them going wide open into a wall, your set.
Broken Parts: The pinion/spur mesh on our Kemora came rather loose, but instead of tightening it we decided to run it and see if it would live. Well… it didn't, it lasted about a pack. Thankfully 2 extra spurs are included with the car. Our review Kemora lived through the "normal" portion of our testing so we had to go into brutal mode. We ran the Kemora full speed into a railroad tie a half dozen times at full speed. This did break the plastic lower front bumper, but this wasn't noticeable while driving. Next up was jumping the Kemora off the top of a 2 story house. On our first attempt the car accidentally rolled backwards and fell off the roof ripping a rear shock shaft out of its rod end. We shoved the shock shaft back in and it was back to game on. Next we jumped it off the 2kd story roof twice, both times landing at bad angles (like upside down) and did not break anything. The battery slid out of its tray on both jumps, but this didn't keep it from driving. Overall- we attempted to destroy the Kemora, and while we did screw up a couple of parts it pretty much drives as well today as it did when it came out of the box. Impressive.
Misc Notes:
We didn't test the waterproofing of the Kemora but for all you water hounds the Spektrum receiver that comes in the car is completely sealed. If you run in a lot of water (and use a Spektrum transmitter) you will want the receiver that comes in the Kemora.
We experienced a lot of cogging from the Kemora's brushless system. Trying to get going from a dead stop was a nasty experience, and the cogging is very hard on all the electronics involved.
I can't stress enough just how good looking the body on the Kemora is. It's quite obvious the design team spent a lot of time on it, but even more surprising is how much time the assembly crew spends on each one. There are a lot of stickers on the outside of the body to give it a perfectly scale look, and those eat up a lot of extra time. The side view mirrors and rear spoiler are also very nicely done and took someone at the factory extra time to put on. The body was so good looking we really didn't want to destroy it, and that's mighty rare for us.
On that same note, even after some pretty sadistic abuse the body still looks amazingly good. The rear view mirrors and wing are still attached, and the body as a whole held up fairly well.
A very nicely done (and model specific) manual comes with the Kemora. Nice touch.
The servo saver is extremely soft. Normally this might hamper steering accuracy, but we didn't notice it on the Kemora. Being able to get away with a soft servo saver is great news for the life of your steering servo.
The Kemora comes with 2 extra spur gears. Sweet.
The tires make a screeching sound on pavement like the real deal. It's very cool to do donuts on pavement and have it sound like a full scaler.
There are a lot of RTR's now days that come with horrible body clips that are too small, hurt your hands, and are generally a PITA. The body clips on the Kemora are nicely done. They are a decent size and bent at the end making them easier to install and remove. However… the holes in the body posts are too small, making it hard to put the pins in. Sigh.
Best Mod Under $5: Dynamite CS800 weight shock oil all the way around. This helps the Kemora handle to its potential instead of like a basketball.
Best Mod Over $5: A Lipo battery. The stock Ni-MH invites cogging and really softens the power of the Kemora, ditch it ASAP for a better battery.
---
Summary:
A = Outstanding/Best in Class, B = Above Average, C = Average, D = Below Average, F = Horrific
Time To Bash: B The included wall charger takes just over an hour to charge the included battery pack. The rest of the rig is ready to jam right out of the box. You can go very quickly from crack'n the box to hit'n the track with the Kemora.
Workability: B Hex screws and a well laid out chassis make the Kemora quite easy to wrench on.
Car Show Rating: A The Kemora drew rave reviews for it's looks around the office. Vaterra is setting a new standard for how hobby grade rc cars should look.
Bash-A-Bility: B We beat the crap out of the Kemora and did break a couple of parts. Thankfully neither broken part kept us from actually driving the car.
Fun Factor: C We had a lot of fun bashing the Kemora, but the cogging and low power output hurt its fun factor score.
Handling: B The Kemora is a great turning machine, especially for a 4wd. The Kemora generally had good grip on all surfaces. It did not handle bumps well, invest in some heavier shock oil to calm it down in the rough.
Value: A The Kemora has the same price point as its closest competitor, the Traxxas 16th scale rally. They also share nearly the same wheelbase and width. The Traxxas comes with a superior power system, while the Kemora beats the Traxxas in handling and style. We haven't done a head-to-head shootout, but so far we highly prefer the Kemora. The Traxxas comes set-up for drifting, the Kemora is set-up for everything else.
Parts Availability: C So we broke/ruined two parts during testing, a front bumper set (VTR211007- $6) and a shock shaft end (VTR213007- $5). Both are in stock at Horizon and on the A-Main Hobbies website. None of our local shops had the part in stock, but the entire Vaterra line was first announced a couple of weeks ago. Will parts support for Vaterra ever hit Traxxas levels? Nobody knows that answer for sure, but for it to score higher than a "C" it will need parts sitting on local dealers shelves in the future.
BigSquid Rating: B Did Vaterra impress us with their first car? Overall yes. The Kemora's scale looks are exceptional. The Kemora drove quite well on a wide variety of bashing surfaces. The Kemora proved it can take a fairly sadistic beating and drive away from it. However, there were some new model blues- the cogging, poorly set gear mesh, soft brushless power, and under damped suspension. Is it worth the cash? If you want an epic looking rally car that is a solid basher (and is shock oil and a Lipo away from being great) then you should definitely add one to your rc garage.