Vattera K-5 Blazer Ascender Scale Truck Kit Review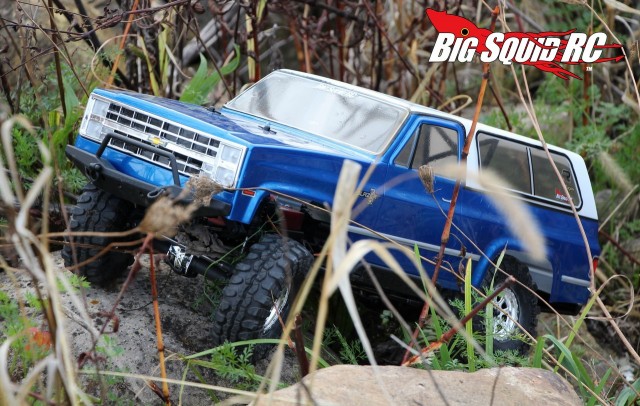 Vaterra now makes a scale truck? We put it through its paces to see if it has what it takes to keep up with the competition! The new kit comes with all sorts of new ideas that really add to the realism of the truck. With options like a quick and easy way to change the wheel base, or loads of steering and a transmission that is easily converted to 2 speed, this may be the next big thing! Click READ MORE to get our thoughts…
Review By: Adam the Intern
Potography By: Tim Mohr and Adam the Intern
Specs:
RTR or Kit: Kit
Ages: 14+
2 or 4wd: 4wd
Shaft or Belt: Shaft
Electric or Gas: Electric
Waterproof: Yes
Scale: 1/10
Length: 21.25″
Width: 9″
Height: 9.5″
Motor: Tekin 35 turn brushed (not included)
Speed Controller: Tekin FXR crawler brushed (not included)
Low Voltage Cut-off: Yes
Radio: Spectrum DX3 (not included)
Differentials: Spool front and rear
Slipper Clutch: Yes
Driveshafts: CV plastic
Shocks: Oil filled, plastic bodies and caps
Servo Saver: No
Hardware: Metric hex
Bearings: Yes
Tires: Vaterra TSL Super Swampers
Battery: Not included
Part Number: #VTR03023
Top Speed (measured by BSRC): 4 mph on 2S LiPo
Runtime: 1 hour
Street Price: $319
Primary Competition: Axial SCX10 and RC4WD scale truck kits.
What's Needed To Complete: Radio, receiver, motor, ESC, battery, and a steering servo.
Build Quality: Being a kit the quality of the build really depends on the builder. Following the instructions and putting thread locker where it will be needed always helps the rig hold together. Vaterra really hit a home run when setting up and organizing the contents of the box! There wasn't one parts tree anywhere in the box, every plastic part was already broke free and deburred from the tree. It's the little things that make a big difference and help to keep the builder from getting frustrated while assembling their new truck.
Test Drivers: Adam the Intern, Sideways Jim, and Don Juan
Test Venues: Local parks around the Joliet Illinois area, Stoney Run National park, and my backyard crawl course.
Turning: One word describes the steering on the Ascender… "WOW!". Every person I showed the steering to had the exact same reaction because no stock scale crawler has ever come with that extreme amount of a steering angle! This makes a huge difference out on the trail and is important when competing because having to back up to make a turn counts against you.
Jumping: With the motor and ESC that we used there wasn't much wheel speed so jumping off a ramp was out of the question. However, with the help of some stairs and a few ledges we were able to get the truck off the ground easily. The aluminum links and chassis mounted bumpers kept the truck together and nothing broke after multiple jumps down stairs and off a 4 foot high ledge.
Bumps/Whoops: Oil filled shocks and a 4 link in the rear absorb bumps great but still allows the suspension to flex like crazy on the trail.
On-Road: With the amount of steering the truck has we would assume that it would traction roll every turn on pavement. However, the super low center of gravity doesn't allow that! WE tried multiple times to get the truck to go over but had a hard time even getting one tire off the ground. I'm sure with a faster motor or use of the 2 speed transmission it could go over, but as of right now it's not easy.
Grass: Grass isn't even an obstacle for this extremely capable truck. The only grass that could stop it is tall grass that would wind up in the drivetrain.
Tires: Vaterra released their version of the TSL Super Swampers along with this new kit and they do great! They're a nice scale height and width and officially licensed so the name of the tire is on the sidewall.
Power: The transmission Vaterra provides accepts the 2 speed gears from the Twin Hammers and can become a 2 speed/ high low trans. This is ideal for a scaler because it will give you loads of torque along with a decent top end to go with it.
Radio: The Spectrum DX3 kept the tires turning and gave us plenty of adjustment options to set up drag brake and steering to suit the truck.
Broken Parts: Unfortunatly there were some broken parts. The ring and pinion in the axles proved to be a weak point due to the fact we broke the rear, and not long after, broke the front. Another weak point was the driveshafts. Although we only broke the driveshafts when the axles locked up after they stripped, they seemed brittle, instead of twisting before they snapped.
Misc Notes: Even with the weak spots the pros out weigh the cons by far. For a stock truck it really surprised us at how capable it could was. The extendable/shrinkable chassis was a different but highly useful idea. This will come if handy when it's time for a new body. From someone who was building a Vaterra for the first time I was very impressed by the quality and organization of the parts provided.
Best Mod Under $5: A set of thread on hubs would add a nice scale touch and hide the wheel nuts.
Best Mod Over $5: Definitely some 2 speed gears and a shift servo!
---
Summary:
A = Outstanding/Best in Class, B = Above Average, C = Average, D = Below Average, F = Horrific
Time To Bash: B Compared to other kits in its class the Vaterra went together well.
Workability: B The chassis lay out is very clean and spread out. Working on it wasn't difficult, everything is easy to get to and in the open.
Car Show Rating: A The Ascender is hands down the best looking affordable kit out right now. When painted correctly the body looks every bit as scale as a hard body! Great job Vaterra!!
Bash-A-Bility: C With some upgrades to the rings/pinions and driveshafts this truck should be very durable and hold together well.
Fun Factor: B If you like scale crawling and want a truck that looks and functions like the real deal, then this truck is for you! We truly enjoy driving this truck and have big plans for it.
Handling: A When it comes to tight turns on the trail there aren't many trucks that will out steer the Ascender. With 45 degrees of steering the front tires really pull around the front end with ease!
Value: B With the amount of aluminum and an all metal gear trans the kit is well worth the money and has proven itself to handle the trails incredibly well!
Parts Availability: C This depends a lot on your local hobby shop. I was able to walk into the Hobb E Mart in Springfield Illinois and buy parts for this kit that just came out straight off their shelf!
BigSquid Rating: B- Vaterra did a great job on the K-5 Blazer. It looks great and has some cool features that other trucks in its class do not have.