From: Venom
Direct Link: Venom Creeper Competition Crawler
Review by Adam the Intern.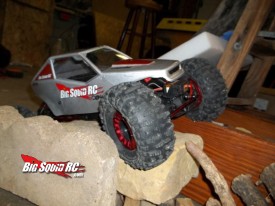 So I got my hands on a new Venom Creeper Rock Crawling kit. Brian decided I might as well jump in with both feet, so here we go!
Needed to complete: To complete this truck you'll need a radio, receiver, speed controller, motor, and steering servo. I used a Futaba Fast 3PM radio and receiver, a Novak Rooster speed control with a 55 turn bushed motor, and a Savox 300oz servo.
Un-boxing: When I opened the box I was impressed at how well all the parts were organized. Every different size, length & type of bolt was in a separate bag and sorted by part number and it really helped when it came time to start putting it all together.
Building: Building the truck went surprisingly smooth but there were a few times where the instructions were confusing and just plain hard to follow and there were a few miss prints where the directions said one thing but required another. The mistakes in the instructions caused the build to take longer than it needed. Other than that the truck was built completely of uncommon hex sizes which would create a problem for those who only have a common size set. The quality and quantity of aluminum parts throughout the truck was great everywhere that the truck would need some extra strength the parts were aluminum. The red anodized aluminum looks awesome and assures that your truck will stand out in a crowd. Overall the build took me 6 hours in one day and that does include a couple of times where frustration made me fire up the scx10 and play in the snow. But I really did enjoy the build.
Performance: Overall the truck is very solid and should really take a beating. The truck just goes a lot farther than any other "shafty" trucks around. The centered driveline offers more articulation without binding. 4-link suspension makes it a lot easier to adjust caster and is more stable than a 3-link. They included Venom Ridge Line tires which provide awesome traction on rough rocks but perform poorly on smooth rock. So for my build I switched to Hot Bodies Blue Track tires and with those tires the truck is unstoppable. To add to the truck I got the optional wheel weight kit which includes bolt on wheel weights. To make use of the locking differentials I also got the remote locking kit which includes the micro servo to switch the diff. With unlocking diffs and 40 degrees of steering I feel you no longer need a remote dig system.
When it's all said and done, if you are looking for an inexpensive kit that is really worth the money then the Venom Creeper is for you.
SUMMARY
Time To Bash – 7/10 – It's a kit, and you shouldn't rush your build.
Workability – 9.5/10 – Overall the truck is very easy to repair.
Car Show Rating – 9.5/10 -The red anodizing really makes the truck stand out in a crowd. People will see you coming.
Bash-A-Bility – 9.5/10 – Any regular weak points in a crawler Venom covered with aluminum parts.
Big Squid Rating – 9.0/10 – Tentacles.. This truck is probably one of the most economical kits on the market because of its awesome price of around $150.00.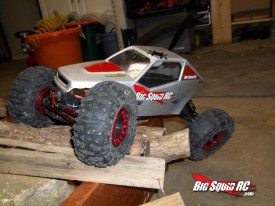 Don't forget to check out the Venom-Group.com site for all the kit details.