Venom V540 3300 kv + 80 Amp Waterproof Brushless Review
THE Venom V540 3300 kv + 80 Amp Waterproof Brushless Review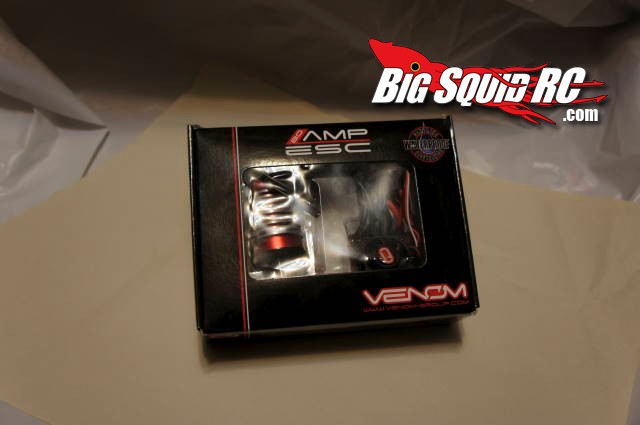 There are a lot of options out there for brushless motor/speedo combo's, but there aren't many that claim to be waterproof. Today we'll be taking a look at the Venom 3300 brushless combo to see how it stacks up. Is the Venom V540 actually "waterproof" as they claim? Does it put out a lot of power? Let's get down to business shall we?

From: Venom Group
Direct Link: V540 3300 + 80 amp Combo
Review By: Cubby
Pics By: Cubby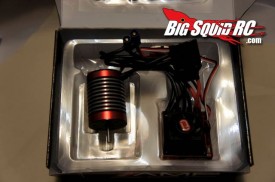 Street Price of the Combo: $135
Motor Specs:
Size: 540
Sensored: No
Output shaft: 3.17 mm
Max Cell Count: 3S Lipo, 10 cell Ni-Mh
Weight: 171 grams
Dimensions: 35 x 50 mm
Kv: 3300
Max Current: 40 amps
Speedo Specs:
Continuous Current: 80 amps
Maximum Cell Count: 4S Lipo, 15 cell Ni-Mh
Dimensions: 49 x 44 x 30 mm
Weight: 88.7 grams
BEC: 3 Amps, 5 Volts
Programmable: Yes
Battery Connector: EC3
Waterproof: Yes
Warranty: 30 Days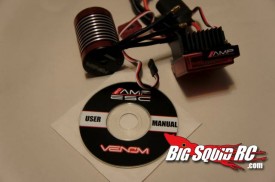 Primary Competition: Novak, LRP, Castle, Tekin, Viper
What's In The Box: V540 3300 kv motor, 80 amp waterproof speedo, and instructions.
Build Quality: Everything looked in order and of good quality.
Test Drivers: Cubby, Brian, Tim, Andi
Test Venues: Our lush BigSquid offices, Jake's Race Place in Fairmont City Illinois, RiverCity Raceways in Peoria Illinois, Leisure Hours Raceways in Joliet Illinois, and various parking lots and backyards.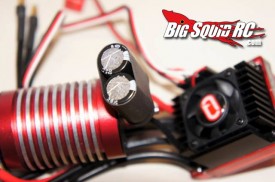 Set-up Notes: The included connector was cut off the moment it came out of the box and replaced with a Traxxas. We ran the Venom system in a rather stock Traxxas Slash and our BigSquid Losi XXX-SCT off of a variety of 2S and 3S Lipo batteries.
Power: Most "Point 5 systems", you know, those sensored motors ending in .5, aren't in the same league of power as the Venom. The Venom has good power on 2S, but pop in 3S and the system really comes alive. While on 2S the Venom system can spin the tires and make all the jumps, but driving on 3S instantly adds 50% more power, enough power to make your truck a wheelie pop'n animal (and far more power than a typical 8.5 sensored motor). The power of the Venom is more accurately compared to other burly non-sensored systems like the Castle or Kershaw. On 3S the Venom certainly has crazy power, so much power that every time you squeeze the trigger full throttle you are either flipping your truck over on its lid or chance tag'n a curb at 40 mph. To boil it down, the Venom can put out more power than most users will ever use.
Ease Of Use: We had three users attempt to program the Venom speedo. One thought it wasn't too hard to program, but the other two, both long time electric guys, hard a difficult time getting the Venom to do what they wanted it to do. After attempting to program the Venom I personally wanted to smash it with hammer (if that tells you anything).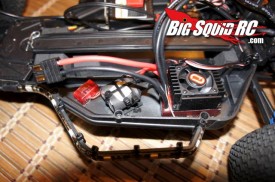 Drivability/Feel/Powerband: For a non-sensored system the Venom felt linear in its throttle curve. The low end was snappy but not overwhelming, the mid range was smooth yet pulled hard, and the top end just kept on pulling (on 2S). On 3S the Venom was a different animal, just plain rip'n hard from bottom to top. The only glitch we found was when going from quarter throttle, to neutral, then getting back on the gas. In that type of situation the Venom system would sometimes hesitate for a moment, as to almost be taking an extra moment to make sure it knew where the rotor was situated. It did not hesitate a lot, nor did it do it every time, but the first time you drive the Venom it is noticeable. Although… I have to say it only takes a couple packs to get used to the quick in throttle "lag". From a dead stop the Venom was generally quite smooth, not sensored system smooth, but arguably smoother than other non-sensored systems in its class like the Traxxas Velineon.
Thermalling: We didn't experience any problems with the motor or speedo running too hot, but I must note most of our testing took place indoors with ambient temps around 70 degrees, and outdoors with ambient temps in the 40's to 50's.
Cogging: We experienced no cogging from a dead stop from the Venom.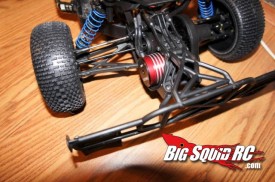 Brakes: The brakes were weaker on the Venom than any other brushless system we've tested. The box stock settings yield very conservative brake strength, so weak as to not even lock up the tires on a slick dirt track. We turned our brake strength up to 100% in an attempt to get more aggressive brakes, but even at 100% they were not close to being what I'd call "strong". However, the relatively soft brakes actually helping our lap times on track. The poor brakes forced the driver to enter a corner at a proper speed, instead of entering too hot and losing time.
Fit: The Venom speedo does not have a small footprint by any means, luckily most short course trucks have plenty of room to mount electronics. If you are considering one of these for your 10th scale buggy you might have to do some mods to make it fit.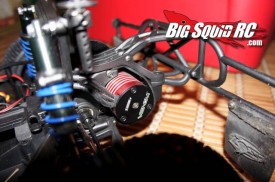 Waterproof: There are very few speed controllers on the market that are waterproof. Venom claimed theirs was so we gave it a test. We submerged the Venom speedo completely in water, then ran the system. Our Venom suffered no ill effects from the water dipping, and we back up their claim of the speedo being waterproof.
Misc Notes: The motor bullets are smaller than those used on other brands. One, the bigger the better when it comes to bullet connectors, and two, the smaller bullets make it a pain to mix and match brands with the Venom gear.
---
As with all of our stuff, if you see us at a bash, stop by and check out the vehicles we have with us. We may let you take a test drive, and at the very least get you some stickers!
SUMMARY
Time To Bash – 7.0/10 -The motor wires comes pre-soldered with bullets and all the wires are soldered to the speedo saving you time. However, you are going to want to ditch the stock battery connector in favor of one from Traxxas costing you a couple minutes. Lastly, we spent too much time figuring out how to program the speedo (and yes, we were using the instructions).
Car Show Rating – 8/10 – The red anodized motor looks trick and most of the guys around the office liked the looks of the speedo.
Bash-A-Bility – 10/10 -Nothing broke, nothing came loose, and nothing stopped working even after our bash testing and submerging the speedo in water.

Fun Factor – 9.0/10 – The Venom really wakes up on 3S. Who doesn't like block long wheelies? Or rear tires the size of a pizza pan? The Venom + 3S equals big bashing fun!
Drivability – 7.5.0/10 -The Venom is generally smooth and easy to drive but not in the same league as most sensored units.
Power- 8.5/10 – This isn't some "point 5" system, this is a good old fashioned non-sensored system that loves 3S. The Venom brushless system puts out burly power on 3S. Here at BigSquid, power means a lot, in fact we'll take power over precision any day, and the Venom puts out good yank.
Value- 8.0/10 – At $135 the Venom can out power many systems costing twice as much and its waterproofing is a big plus for bashers.
Big Squid Rating – 8.3/10 – Tentacles.. If you are looking for big power, waterproofing, and a reasonable price point the Venom is a good choice.