From: Venom Racing
Direct Link: Venom VMX 450
Review by Brian.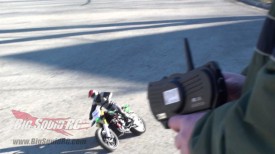 So we recently got our hands on a Venom Racing VMX 450 1/4 RC Dirt Bike!
From the moment I opened the box, I was pretty excited about this motorcycle. First off, it's big. There have been a bunch of 1/5 scale motorcycles going around lately, and let me tell you, the difference between a 1/5 scale and 1/4 scale is huge. Bigger is better, right?

The rubber/foam rider really looks good, and has also taken a good beating. I would of bet money that there was no way his hands would last holding onto the bars after his first crash, but we have been beating this guy up and he is still intact! The paint on the guy has started to flake a little, but it makes him look more like a serious rider.
The bike itself is impressive! The size is great, the chain drive works very well, and it does not feel or look like a cheap toy bike. There is a lot of aluminum on the bike, it's durable and offers a little bling factor while it's at it.
Also out of the box it comes with a V 540 series 4800kv brushless system and 2.5Ghz 3 channel programmable radio. When you first see the price, you may have a little sticker shock, but you are getting a lot of good stuff in the box. You won't have to worry about needed hop-ups and updates immediately.
Getting up and running was pretty quick, we installed the side guards to help keep you from tipping over, we added our own battery connector (everything we have we convert to Deans or Traxxas to make our lives easier in the office), installed a LiPo battery and we were off and running.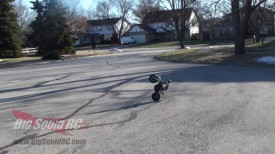 If you haven't driven an RC motorcycle before, you are in for a bit of a learning curve. Remember the bike turns by leaning, so the front steering goes the opposite way you would expect. Turning your controller left, turns the front wheel right so the bike can lean left. They need a lot of space, a lot of practice, and a good amount of thinking while you are driving. This isn't just a pick up and race around sort of RC vehicle. Our first venture out, we were surprised at the size of the turning radius needed to spin the thing around 180 (without dipping down onto the included guards). We could barely do a u-turn in the street. After several minutes you can start to get into this nice smooth rhythm. There's no quick turns here, it's all about staying calm, thinking way ahead of where you want to be turning, and then easing into it.
After a good half hour you will be a little more confident and start to actually turn where you wanted to turn, keep the bike upright, and not depend so much on those side guards.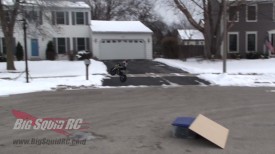 Running the bike on a track would be a serious challenge. You just can't turn tight enough, or as consistently as you would like, but that's probably the case with most two wheel vehicles. In the hands of a seasoned pro, they could probably make it around the track, but if your a rc motorcycle newbie, you better plan for a wide open area. Our top speeds during testing was around the 27mph on 2s LiPo, and that's moving pretty good for a vehicle of this size and weight. Any faster and you would really need a big open space.
It's been snowing here like crazy, so we were also happy to see that the bike is waterproof. We couldn't resist getting out there and seeing what it could do in the snow! To our delight and surprise, the thin wheels let it rip through the snow with ease throwing a huge roost of snow behind it! It was a couple of inches deep in spots and the dirt bike had no problem with the terrain. Bill and I were driving anywhere and everywhere we could and having a blast.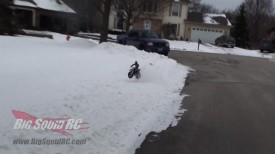 It was time to catch some air! Plastic parts have a tendency to snap much easier when they are frozen, and it was really cold out. We were pretty sure that catching any type of big air was going to spell disaster. Driving in a straight line was much easier when we weren't trying to aim for a 4 foot wide ramp. We eventually got things lined up and launched it! The VMX not only handled the ramp well, it sailed through the air perfectly straight and landed! Jump after jump it landed on it's wheels and drove away. We were getting 4+ feet of air, and probably jumping 15-20 feet out landing on pavement, and didn't have a single issue. The gyro in the rear wheel does a great job of keeping the bike centered in the air and on the landings. The spinning gyro also allowed for some awesome unplanned stunts. Wheelies, flips, crashes and curb jumps had a tendency to right themselves, our rider would some how find his way back onto the seat and just keep going.
Overall the Venom VMX 450 is a great bike! It has taken a good beating with nothing broken yet, and for all the stuff you get in the box, the price is reasonable. The attention you get from people when they see a two wheel vehicle cruising around is VERY different than any four wheel vehicle. The VMX was surprisingly durable. We hit a LOT of curbs, jumps, and all sorts of stuff, and we didn't break anything or strip out the steering. There is a certain 'wow' factor that just stops spectators in their tracks, and who doesn't like a little attention. All that being said, there is a learning curve to driving the bike (or any bike) and your going to need a lot of space to have a proper good time with it.
Don't forget to check out our Venom VMX Unboxing photo's as well.
As with all of our stuff, if you see us at a bash, stop by and check out the vehicles we have with us. We may let you take a test drive, and at the very least get you some stickers!
SUMMARY
Time To Bash – 8.5/10 – Charge some LiPo's and go!
Workability – 8.0/10 – Most things are easy to get access to on the bike, but there is a lot there in a small space.
Car Show Rating – 10/10 -This bike turns heads and stops traffic! Easily the center of attention anywhere you go.
Bash-A-Bility – 9/10 – Waterproof, takes a good beating, jumps big and lands.
Big Squid Rating – 8.5/10 – Tentacles.. It's fun to drive and can take a bashing. You are limited to where you can use it, and inherently you'll find yourself walking to get it upright more often then you would like. If you have been itching for a two wheel RC vehicle, the Venom VMX is a good choice.