Venom VMX 450 Unboxing!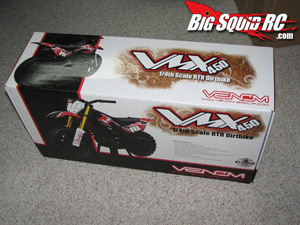 Today we got our Venom dirtbike, the VMX 450 Brushless RTR! The box is well done, nothing mind blowing, but better than average. When I first opened it up, it was actually bigger than I expected. We don't see a lot of bikes in our area, just a couple now and then on the on-road track, but I think they are usually smaller.
First big surprise, the rider, AKA "Mini Cubby", is made out of rubbery foam type material. Sort of like those stress balls you can pick up and squeeze. While this makes the rider look really cool, I am a little worried that a good bash session is going to tear him to pieces. Either way, for now he looks good!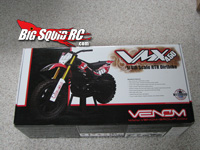 The paint job is also well done. The pictures really don't do it justice, even the ones on the official Venom site don't look as cool as it does in person. The 4800kv brushless motor and ESC seem well protected, and I really like the way the battery hides up inside the front of the bike.
More pictures after the break.
For some reason, I'm actually excited about this rc dirt bike. Maybe it's the size, or the fact that it's a nice change from everyone coming out with short course trucks, and that's all we have been driving lately. RC motorcycles are not known for being easy to drive, but I am really looking forward to it VMX 450's first run!
Visit Venom-Group.com for details.