Video – Robbie Gordon Stadium Super Truck Demo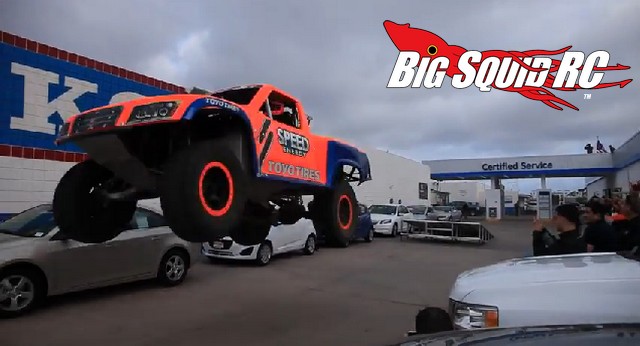 If you haven't heard, Robbie Gordon's Stadium Super Truck Series is now in full swing. The SST series looks to be more extreme than previous indoor truck events. A couple of weeks ago at the San Diego round the SST track featured several supercross style doubles and a crazy do-or-die crossover section. As further proof of just how crazy these trucks and drivers are check out the video below of Robbie Gordon doing a demonstration at a car dealership. My jaw hit the floor when I saw how hard he was hucking his race truck between all those brand new cars!
The BigSquidRC Bash Crew will be covering the next two Stadium Super Truck events – June 8th in St Louis Missouri at the Edward Jones Dome, and June 22kd at Soldier Field in Chicago Illinois. Come out and hang with the BigSquidRC crew and check out the rc demo's being put on by Traxxas. Traxxas is not only a support of Robbie Gordon, but also of the Stadium Super Truck Series.
For more information on the Robbie Gordon Dakar Edition Traxxas truck hit THIS LINK. For the official Robbie Gordon Stadium Super Truck series schedule just CLICK HERE.
Want to find out more about remote control short course trucks? Check out THIS LINK right here on BigSquidRC.