Viper Copperhead R and VX4R.51 Sensorless Brushless Motor/ESC System Review
THE Viper Copperhead R and VX4R.51 Sensorless Brushless Motor/ESC System Review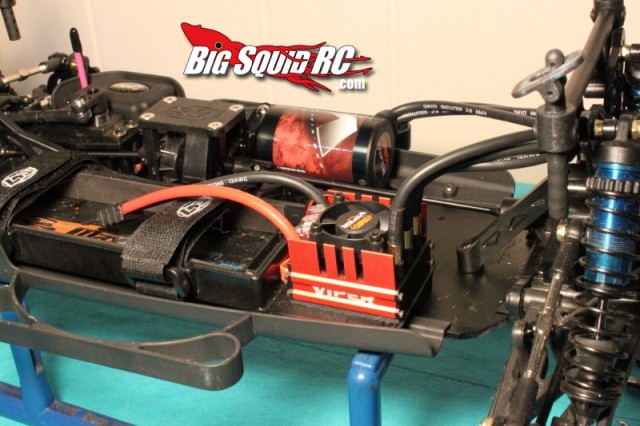 To really rip up the local bash spot takes some serious horsepower now days. I mean, since brushless has taken over the world every Tom, Dick and Harry are packing 500 watts (or a LOT more) of tire shredding power to the local Wally World parking lot. Do I have some good news for you- Viper has an uber new 550 system intended to lay waste to its competition. Is the new Viper Copperhead R system battlefield ready? Read on…
From: Viper R/C Solutions
Direct Link: Viper VX4 Copperhead R 550 system
Reviewed by:Cubby.
Pics by:Cubby.
System Part #: 6VSVX4R511
Street Price: $150
Speedo Specs:
Continuous/Burst Current- 150/750A
Footprint- 45.5 x 39.8 x 29.3 mm
BEC- 6 volts/5 amps Linear
On Resistance- .0005 ohm * 2
Cell count- 2 to 3S Li-Po
Motor Limit- 2S 550 Less than 6,000 Kv, 3S 550 Less than 4000 Kv
Sensored- No
Default Profiles- 5
Fan- Yes
Warranty- 180 Days
Motor Specs-
Size- 550
Length- 2.38″
Diameter- 1.42″
Sensored- No
Max Cell Count- 2S
Max Temp- 180 F
Kv- 5150
Poles- 4
Output shaft- 5 mm
Weight- 8.89 oz
Warranty- 180 Days
What's In The Box: Viper Copperhead R speedo, VX4R.51 motor, stickers, speedo manual, gearing chart, double sided tape
Build Quality: Not as uber looking as some of the higher end Viper product, but still looked solid.
Test Drivers: Cubby, Brian, Iron Mike
Test Venues: Outlaw RC in Collinsville Illinois, Costco parking lot, streets of a local sub-division, grassy backyard
Set-up Notes: Test truck was a Losi Ten SCTE. We tried gearing from a 13 to a 17 tooth pinion, but the 13 was preferred on the 5150 kv motor. We also drove the 4500 kv Viper motor and had good luck with a 15. Stock spur was always used. We only used MaxAmps 2S 6500 Race Spec packs during testing. A Hitec servo swung the front tires. A Futaba 4PL radio system ran the show.
Ease of Use: Calibrating the speedo to our radio gear was a snap after reading the manual. Not the easiest speedo on the market to set-up, but close.
Drivability/Feel/Powerband: Interesting power-band on the Viper Copperhead R plus 550 motor system. Having tested one of the Viper sensored systems a few months ago I know how smooth they are, but the Copperhead R non-sensored system drove much differently. Going from a dead stop to the lowest possible throttle input resulted in a slight lurch. You have dead stop, or 1 mph, but nothing in between like you would have on a sensored Viper system. From there on up, the low end seemed very soft, not from a lack of power (as the motor has outrageous amounts of it on tap), but it seems the low end power has been programmed soft to make the system easier to drive. Mid range also seemed relatively soft, also seemingly done to make the system easier to drive. Above the midrange the system has to let all those ponies out at some point, and just above half throttle things start happening fast. Needless to say the top end power comes on hard. This type of powerband takes some time to get used to, but once acclimated, wheeling the system is easy.
Thermalling: We didn't push our Copperhead R system to the max, by that I mean we didn't gear it to the moon on 3S. We only ran the Viper system on 2S, and not only that, the maximum ambient temp we experienced during testing was 50 F. With that said we had no issue with the speedo getting too hot and shutting off. In fact it ran quite cool. The highest I ever measured the speedo was 115 F. We also saw reasonable motor temps until we started pushing the gearing higher than recommend.
Cogging: We did not experience any cogging with our Viper system. I purposely attempted to get it to cog by over gearing the 5150 motor and starting on an uphill, but I still experienced no cogging.
Power: I have no idea how much wattage the Viper 550 motor puts out, but it puts out more than enough to throw tires off our Losi SCTE, and more than enough to make the biggest jumps at the local track. While the system feels quite tame and drivable below half throttle, its produces a Lot of overall power.
Brakes: The brakes on the Viper felt a bit soft with stock programming, even for low bite surfaces. When slamming the brakes in an "Oh Crap!" situation we couldn't lock up the tires, even on a fairly slick dirt off road track. We increased brake power via programming and had more than enough anchor power.
Fit: The Viper Copperhead R isn't a tiny speedo, nor is it a chassis hog. We had no issues fitting it in our Losi SCTE, and it should fit easily into any 4wd SCT. The motor is a pretty standard 550 size that once again fit perfectly.
---
As with all of our stuff, if you see us at a bash, stop by and check out the vehicles we have with us. We may let you take a test drive, and at the very least get you some stickers!
SUMMARY
Time To Bash – 9/10 -The speedo came with a Deans soldered up and the motor came with bullets soldered on. The Viper installed quite quickly for a BL system.
Car Show Rating – 8.0/10 – The Bash Crew liked the looks of the Viper system.
Bash-A-Bility – 10.0/10 -Our Losi SCTE took some pretty outrageous hits while testing the Viper system and it stills works perfectly.
Fun Factor – 8/10 – Holding the Viper system WFO around the local cul de sac is a smile inducing thrill.
Drivability – 7.5/10 – For a nuclear powered 550 system the Viper has an exceptionally easy to drive low end and mid range, just watch out above that. Power comes on like a freight train on the top end.
Power- 9/10 – Have no doubt, the first time you wayyy over jump the triple on the local track you'll know there is a lot of power under the hood of the Viper.
Value- 9/10 – $150 for a powerful 550 system that rocks your 4wd SCT equals good news for your wallet.
Big Squid Rating – 8.6/10 – Tentacles.. – The Viper Copperhead R + VX4R.51 system is a solid choice for your 4wd SCT. It's easy to program, easy to install, has plenty of power, and does it all at a very reasonable price point. Pick one up, it has great bang for the buck.