VS Tank 1/24 Scale King Tiger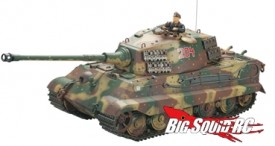 Cubby and I had a total blast thrashing each other with some VS Tanks at iHobby 2011. Heck, even after the show doors were closed we were over in that booth blowing each other up. Way cool stuff. VS Tank has a new 1/24 Scale King Tiger Henschel that looks totally awesome. Realistic lights, sounds, rotating turret, the works. Best of all, it's all set to fight other VS Tanks with some infrared beams.
Make sure you check out VS Tank for the scoop.