VS Tank 1:24th Scale Snow Tiger and Leopard 2 RTR Battle Tanks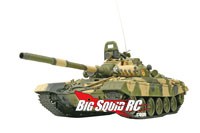 These cool 1/24 scale tanks from VS Tank have always been pretty sweet and detailed, but these new ones look awesome! They come with a video game style controller, all wheel suspension, can climb steep inclines and the turrets can even rotate! The canon moves up and down and recoils after firing an infrared beam at opponent tanks. If hit, the tank stops for 3 seconds, and after the 6th hit it's disabled! Pretty cool!
The new ones are, Snow Tiger 1 Tank – Winter, Russian T72 M1 Tank – Camo, and Leopard 2 A6 Tank – Camo. Head over to the VS Tank site for more details!