VsTank 1/24 Leopard 2 A5 Winter Camo 2.4GHz RTR Tank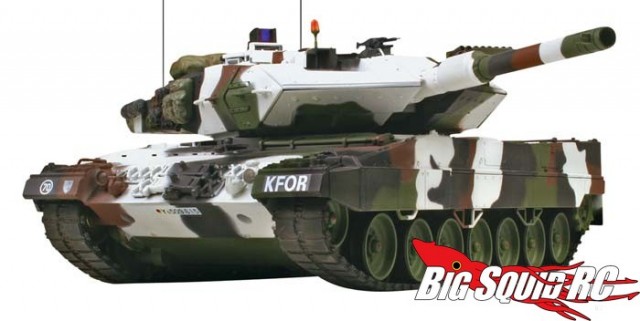 Cubby, Brian and I have been getting more into the tank scene lately. We find them a great way to blow off some steam while sitting around the office.
One of the bigger names in the tank scene is VsTank. They have a bunch of different models but their newest is the Leopard 2 A5 sporting Winter Camo. The newest Leopard has a 2.4 GHz radio system and fully proportional forward, reverse, and turning. Some of its other features include-
* Scale detailing
* Range of up to 160′ on 2.4 GHz radio system
* Up to 16 tanks can battle at once
* All wheel suspension
* Capable of inclines up to 35°
* Guns move up and down, turrets rotate 330°
* Utilizes infrared battle system
* Width: 6″
* Length: 16″
* Height: 5.2″
* Weight: 2.8 lb
* Shooting distance: 26 ft
The part number for the VsTank Leopard 2 A5 Winter Camo is #VSKC2021, it has a street price of $159, and they are expected to hit stores in early September.
Want to read more about VsTanks? Click HERE for more information right here on BigSquidRC.