VsTank 1/72 Scale Tank Sets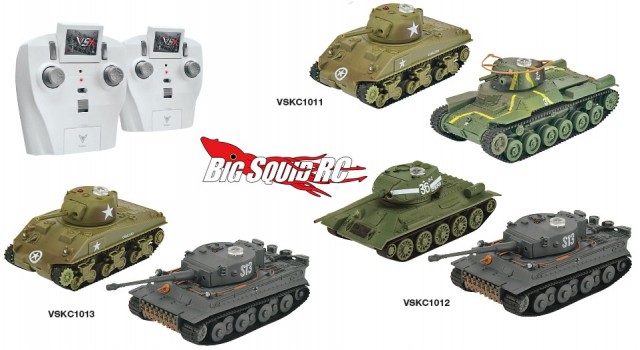 After a hard afternoon of smashing cars out in the parking lot, it's not uncommon to see the BSRC Bash Crew come straight inside and do some tank battles. We've found that tanks are a great way to blow off steam, and an even better way of avoiding real work (just ask Cubby).
The guys over at VsTank have shot out a press release on their new 1/72 Tank Sets. Each set comes with a pair of tanks and controllers, plus they've now been upgraded to be better than previous models. These highly detailed tanks now come with upgrades to their infrared and drive systems to be even more reliable. Some of their other features include-
* Fully proportional forward and reverse
* Right/left turning and clockwise/counterclockwise rotation
* Rotating turrets
* Machine gun sounds and tank reactions when firing and being hit
* Up to 4 tanks can battle at the same time
* Batteries are recharged right from the controller
* Three different sets to choose from
* Each set comes with two complete tank models, two controllers, battlefield poster and accessories
VSKC1013 1/72 Tank Set-German Tiger 1/U.S. M4 Sherman- $79.99
VSKC1011 1/72 Tank Set-Japanese Type 97/U.S. M4 Sherman- $79.99
VSKC1012 1/72 Tank Set-German Tiger 1/Russian T-34- $79.99
These tank sets are available right now, click THIS LINK to visit the official VsTank website.
Looking for more VsTank news? Check out THIS LINK right here on BigSquidRC.