We have our TRAXXAS 4×4 Slash Winner!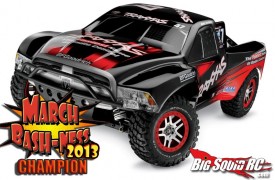 First off, thanks again and Congratulations to TRAXXAS for the Slash 4×4 Giveaway as celebration for winning the March Bash-ness 2013!!
We had a TON of entries this time around! All the names were put into a database and a random number picked the winner. That winner is "Steve bruck123e@" and he has been contacted for all of the necessary info. Steve if you are reading this, check your email! Thanks again to all the companies that supported this year's playoffs as well as to all the readers and fans for their voting over the last few weeks! It's an awesome event every year, and we couldn't do it without you all!