Wednesday Interview – ARRMA's Rob Hopkins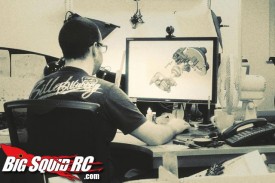 ARRMA may seem like the 'New Guys' on the RC scene, but they have a lot of talent and experience behind the scenes. They sort of popped up out of nowhere with 6 vehicles covering just about every genre, and the vehicles we have tested and reviewed here at Big Squid RC have been exceptional at taking a serious beating. We went around the office and gathered questions and sent them over to Rob Hopkins at ARRMA RC, read on to get some great inside info on the world of ARRMA.
BigSquidRC: Why the twin spar frame on all your models?
When we design a car, we do so in such a way that the car not only looks good, but it is extremely durable and robust. The TVP chassis design achieves all of these things. The narrow chassis design allows for a low Centre of Gravity and gives the ARRMA cars a nice balance. This is one of the reasons why so many people have told us how well the cars jump. Also, by using aluminium, we can anodise the TVP plates to make your ARRMA car look really cool. We're working on a number of optional upgrade parts for all of our cars.
BigSquidRC: We've found every ARRMA model we've tested to be quite durable, especially the Granite. What are the keys to putting out an ultra-durable platform?
Thank you! That's a BIG compliment to us. We take the design of our cars and each component very seriously. We design every part to perform its function as well as it can. The key is very simple: 'DESIGNED to be FAST, DESIGNED to be TOUGH'. Everyone at ARRMA loves, and we mean LOVES, RC cars. We all grew-up using them, racing them, bashing them. A lot of us still do. The passion we had as kids for RC cars is with us today. We want to bring that passion and enthusiasm to a new generation of RC car fans. We want people who have one of our cars to love using it so they tell their friends, and they tell their friends. The more people who use RC cars, the better the world will be.
BigSquidRC: When ARRMA started with a blank piece of paper a couple of years ago what was the biggest priority during the design process?
Great question. Priority #1 was to 'DESIGN to be FAST, DESIGN to be TOUGH' a new platform of RC cars. This means using all of our years' of experience to create something new. Priority #2 – Don't copy other manufacturer's designs. Design is what we do and what we love. Priority #3 – make products people will enjoy and enjoy sharing. Priority #4 making RC cars fun.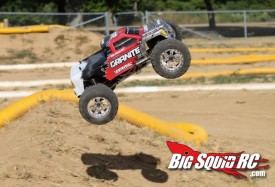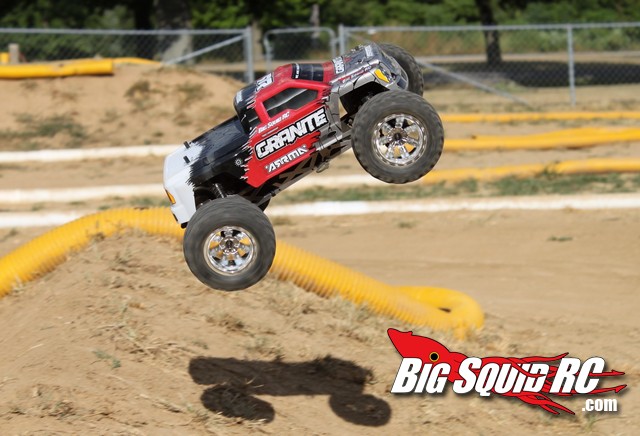 BigSquidRC: How long till we see brushless RTR ARRMA's?
We see a lot of ARRMA brushless cars already. Because we designed our cars to be brushless ready from day one, a lot of people have already converted their ARRMA cars to be brushless. It seems like a lot of our customers got used to their brushed cars, and once they wanted to go even faster, they bought their favourite brushless system. We know people love brushless cars, and you will definitely see brushless ARRMA cars in 2013. We've done a lot of research and testing into developing the right brushless systems for our vehicles. Like I said, the ARRMA cars were designed from day one with brushless power in mind. That's why the gearboxes and transmission are made from quality materials. We've done plenty of speed tests with highly accurate speed guns and other devices to check how fast our brushless systems as. Let's just say we'll be as fast as anything else out there. Pound for pound, we'll go wheel-to-wheel with ANY other manufacturer's car.
BigSquidRC: ARRMA, thus far, is a basher specific brand. Can you hint to the next product segment ARRMA may enter next?
Bashing is where we will be for a while. We have no intention of going into racing cars (we have Team Durango for that). We have LOTS of great ideas, but I can't say more than that right now. We will always wait to deliver products we believe are the best we can make, rather than rushing a product to market. ARRMA products have to be tested to obliteration point (and beyond). We have an office full of dead cars. These cars sacrificed themselves to make their offspring stronger and faster than they were. It's sad, but there is an emotional cost to developing great RC cars; unfortunately, sometimes, cars have to be seriously hurt in the process.
BigSquidRC: Does the ARRMA name have any special meaning we don't know about?
ARRMA is a play on words. ARRMA sounds tough, a bit like the bullet-proof clothing worn by soldiers to protect them. ARRMA sounds like what's on vehicles to make them withstand foreign bodies and attack. ARRMA describes strength, resilience and toughness. The back-to-back R logo looks a bit like a warrior's helmet from the film 300. We want our ARRMA cars to be tough and to withstand abuse and come out on top of any RC car fight.
BigSquidRC: ARRMA covered a lot of bases quickly with 6 different vehicles out the door. It's been quiet lately, is the next thing we hear about going to be 6 more vehicles at once? Or will they be more one at a time?
When we had no cars, we decided we needed to launch six cars in one go to announce ourselves. We needed people to realise that ARRMA was here to stay and that we could make multiple, great looking and great handling cars. Now that people know about us, and we have a small range, we will release cars more evenly, maybe one or two at a time. Though it has been a while since we released a new car, we've been extremely busy behind the scenes, working on new cars and new ideas, not only for ARRMA but for Team Durango too. We're constantly developing and testing, and with Hobbico behind us we have a very exciting future.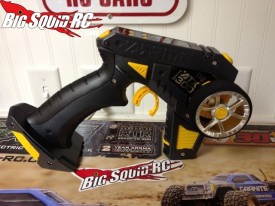 BigSquidRC: Have people been receptive to the new transmitter design? It was pretty shocking to many. We enjoy having contests to see who can win a few laps driving lefty. Do you hear stories of people changing out the radios, or keeping them in?
A lot of people liked our unique, patented, ambidextrous transmitter. Some people didn't, so we guess you could say it divided opinion; it has certainly been a talking point. Maybe it was a little bit too different to what people were used to; what do you guys at BigSquid think now you've used our ATX-300 transmitters for a while? Perhaps in time people will see our ambidextrous transmitter as a revolutionary idea. One thing is for sure, RC car fans can have no doubt that ARRMA designs things with a lot of thought and purpose. We personally haven't heard of anyone swapping their ARRMA transmitter out for another type, but we're sure it has happened. We'd say that more people like it than don't like it, so we think that most ARRMA fans stay with their ATX-300.
BigSquidRC: We are all going outside to bash, you can bring 1 vehicle with you, what do you bring?
A Granite that's been upgraded to brushless. It would be stupidly fast and more fun that we could say. Why doesn't BigSquid put a brushless system into a Granite and review it in the only way BigSquid can?
BigSquidRC: Rally vehicles seem to be the flavor of the week. Is someone there working on a ARRMA Rally built from other ARRMA vehicles?

Maybe …
BigSquidRC: Will ARRMA make the jump to 4WD on any of their previously released vehicles?
4WD yes, but not based on any of our existing chassis. We'll look at the design for the 4WD platform afresh, like we did for the current 2WD platform. We'll only release it when it's as good as we can make it though. If you mean, will you see a 4WD Granite and 4WD Fury, then almost certainly the answer is YES!
BigSquidRC: Thank you for your time, is there anyone you would like to thank?
Thank you for giving us the opportunity. We'd like to thank EVERYONE who has bought an ARRMA car. We'd like to thank everyone who owns an RC car, no matter who the manufacturer is. The more people who get into RC cars, the more we can all keep on having fun. Finally we'd like to thank BigSquid for honestly testing our cars and beating them up like no-one else. We know if an ARRMA car gets tenticles, it's got to be
bullet-proof.
Thanks guys and have fun!