Wednesday Interview – Pro Boat's Kevin Hetmanski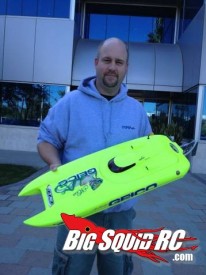 This week we were lucky to spend some time with Kevin Hetmanski for our Wednesday Interview column. Many of you know Kevin from his days at Car Action, but these days his life revolves around his job in Horizon Hobby's Pro Boat division. What's new with Kevin? What's new at Pro Boat and Horizon? Let's find out.
BigSquidRC: Several (read- most) of our staffers know little to nothing about the rc boat game, what suggestions would you have for us noobs on our first steps into rc boating?
Kevin: For the beginner (especially a car guy) I usually suggest getting a slower boat such as our brushed Shockwave 26. This is a boat that you can use to get used to how a boat performs and to get used to driving on the water. It's much different from a car and I'd say the biggest thing that I see people struggle with is the fact that boats don't have brakes. A lot of people push the trigger back expecting the boat to slow down and they end up hitting something. You'll also find debris in the water and vegetation underneath and that can hang up the boat. Once you get the hang of driving your boat you can upgrade to something faster like our Blackjack 29. It has a brushless motor and can run on 6S LiPo power. It's crazy fast and lots of fun to drive.
BigSquidRC: We see you have a new Retrieval Decoy on the way, how popular was the previous version? We do some boating around the BSRC office, but whenever water is involved somehow the Retrieval Decoy always makes it into the conversation. Will there be a brushless upgrade?
Kevin: LOL, we talk about upgrading the Retrieval Decoy to brushless and LiPo power all the time. It would be pretty funny seeing a duck speeding across the water. Since the hull wasn't designed for high speed runs, it doesn't react well to that much power. It ends up tipping over and not going very far. The Retrieval Decoy does well for us. It's great for hunters who may need to retrieve a duck from the water and it's awesome for recovering stalled out or broken boats.
BigSquidRC: In your mind, what has been the most significant improvement to the boat scene in the last few years?
Kevin: Just like cars, I think that brushless motors and LiPo power have been the most significant improvement to the boat scene. Boat guys want to go fast and the current choice of power systems makes that easy to do.
BigSquidRC: Catamaran or Deep-V and why?
Kevin: I've always like the deep-V hulls. They look like most of the boats that you see while you're at the beach or lake and they handle rough water very well. I've had a few deep-v hulls through the years and I've always enjoyed driving them around. When I drove the 29-inch Miss GEICO I became a big fan of catamarans. The hull design of the Miss GEICO is attractive and this boat does well on flat water as well as water that has a bit of a chop to it. It's really cool seeing them skating across the water in a turn while wide open.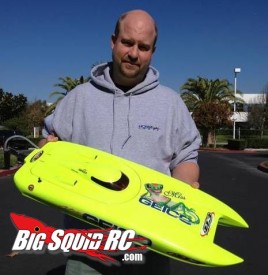 BigSquidRC: What is something that you think can still use serious improving in the boat world, and why hasn't anyone tackled it yet?
Kevin: Now I can't tell you that. If I did, someone may take my ideas and run with them. Let's just say that I have a lot of ideas on how to improve RC boats. I'm already working on making some of those changes and I think what I'm working on will get more people excited about RC boating.
BigSquidRC: The water around us (the Chicago metro area) is frozen solid most of the winter. Are there any cold weather options for rc boaters?
Kevin: Just like for the car guys, the winter is a great time for boaters to go through their boats and get them ready for the next season. You can upgrade your electronics or hardware or even give your boat a paint job to change up the look. If you have a local high school that has a pool, you may even be able to talk them into letting you use our 17-inch Miss GEICO and Impulse when it's not being used. Those boats are perfect for a large size pool.
BigSquidRC: What is the coolest project that you've worked on at Pro Boat thus far?
Kevin: I'm still pretty new at Pro Boat so I haven't worked on many new projects. So far out of the lineup we have now I'd have to say that the 29-inch Miss GEICO is the coolest. It's fast and you can't go wrong with that Miss GEICO trim scheme. If I have to pick a project, then I'd say that the coolest project is one that I am just starting. When you guys see it, you'll be blown away.
BigSquidRC: Who was the favorite person you worked with in the magazine biz?
Kevin: My favorite person who I worked with in the magazine biz is John Howell. He got me my start with the magazine and taught me a lot of things in the beginning that I still use today and have even shared with my contributors while I was at the magazine. John and I still hang out from time to time.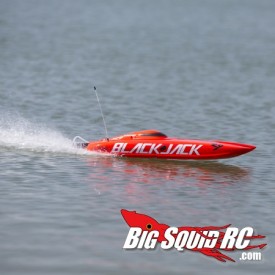 BigSquidRC: You've built some pretty trick rc trucks in the past, which one are you most proud of?
Kevin: Thanks for the compliment. I've built so many trucks that I have actually forgot about a lot of them. A truck that comes to mind is my Chevy crew cab. It was one of the best scale trucks that I built and had features such as a tilt nose, opening doors, tilt bed and custom made chassis. It's also the truck that got me in trouble with a lot of people because I used it as a victim to a flame throwing E-Maxx that we featured in the magazine. Funny thing is that all of the internet experts had no idea that the truck was in terrible shape, was in no way a Tamiya Bruiser (which was highly sought-after at that time) and that the one part that was from a Bruiser was not harmed by the fire because I put it out before it even got down to the axles. I still have the axles somewhere. I even had people mad because I burned a Tamiya Clod Buster body that had the Chevy emblem on it. Uh…. that body was highly modified so I have no idea why that mattered. I am working on a new truck that is going to be much better than that truck ever was. I've been trying to get it done for years and now that I have some free time, I am putting it into the lineup just after the custom 1/5-scale trophy truck I am building.
BigSquidRC: If you were going to go out bashing with the BigSquidRC crew right now what one truck would you bring?
Kevin: It's a toss-up between the first version of the Losi LST and the Losi 5IVE-T. I'm not just saying that because I work for Horizon Hobby and we make those vehicles. They really are great trucks that I enjoy. I still have the LST we featured on the cover of Nitro and it's on my need to get it running again list. It's such an awesome truck. I also really like my 5IVE-T. Now that I am living in SoCal, I have a lot of tracks to race it on and to me that is the most fun I have ever had when it comes to racing. I just ran it at the West Coast Nats and had a blast. The truck looks great, handles well and they are easy to tune. I also like hanging with the 1/5-scale crowd. They are much more laid back then some other groups that I have raced with.
BigSquidRC: Thanks for taking the time out of your busy schedule to do an interview for us Kevin, anybody out there you would like to give props to?
Kevin: No problem guys. Thanks for taking the time to do the interview. I'd like to give props to John Howell. If he didn't give me a chance more than 15 years ago I wouldn't be where I am today.