Wednesday Interview- Pro-Line Racing's Gerardo Gonzalez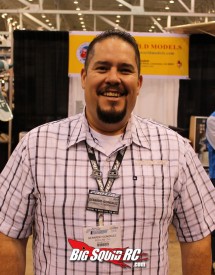 Pro-Line Racing has been the biggest, hottest, and most trusted name in rc bodies, wheels, and tires for 30 years. There are a lot of rumors out there about Pro-Line expanding their product line-up into some significant new territories, so we lined up an interview with Gerardo Gonzalez, one of Pro-Line's research and development guru's. I went around the office and collected questions from all the guys, read on for Gerardo's answers and some cool information about his life at Pro-Line.
BigSquidRC: Is there something in the water over at Pro-Line that makes every product you make instantly the hot new trend?
Gerardo Gonzalez: After 30 years of building performance accessories our team has developed a keen eye for what's going to enhance the consumers experience. Our in house tooling and manufacturing capabilities give us that extra edge to bring these ideas to life.
BigSquidRC: How big of a check would I have to cut to make this "cab forward" trend disappear?
Gerardo Gonzalez: It's a little more complicated than that. Let's face it, if all the vehicles we raced looked true to scale it would be a more ideal scenario. But at this point in time the classes you are referring to do not represent nor do rules exist that require them to mimic actual full scale race cars. With this said, Cab Forward designs are producing the highest performance at the track and that is what these particular customers are looking for.
BigSquidRC: Pro-Line seems to be putting out more gear aimed towards bashers than ever before. First off, the masses thank you, and secondly, is high end uber bashing the newest trend?
Gerardo Gonzalez: With the growing availability of Ready to Runs, the basher segment is definitely very strong. This is making it easier for people to become enthusiasts of the hobby. It's very fulfilling for us to offer these new customers products that will enhance their experience. But at the same time our passion for racing has not wavered so you will see us working hard to cover all bases in the future.
BigSquidRC: The Pro-2 LCG chassis is a huge step into something new and now you seemingly make a replacement for every part on a Traxxas Slash. Is there an entire kit or rtr vehicle in Pro-Line's future?
Gerardo Gonzalez: This is a question we get a lot but at this time we are quite satisfied in being a world class accessory manufacturer. In the case of the Slash, it is our goal to provide the consumer limitless options in enhancing their vehicles performance and appearance. We take pride in offering such a huge transformation in performance and customization to these enthusiasts. The completeness of this project is a direct result of the enthusiasm the Pro-Line team had for it. We just couldn't stop!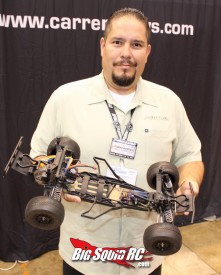 BigSquidRC: Would Pro-Line consider doing a completely 'original' vehicle, i.e. not one that just improves on an existing platform.
Gerardo Gonzalez: The sky's the limit here at Pro-Line, but we also know the value of sticking to our core competency. I'll keep you posted.
BigSquidRC: Rally cars are the 'hot thing' right now. you guys seemed to see this coming a while back with the introduction of your Rally Slash body. What are your chances of making any rally bodies for the other rally platforms? HPI, Thunder Tiger, Kyosho, Traxxas?
Gerardo Gonzalez: For sure, I think you will see expanded Rally options from Pro-Line.
BigSquidRC: Is Pro-Line as a company trying to change direction, or will tires and bodies still be the heart of the company?
Gerardo Gonzalez: Pro-Line is a world class manufacturer who produces all tooling and product related to tires, wheels and bodies in house, in the USA. No other manufacturer in our industry can say this. With that said, you will always see industry leading innovations in these product lines coming from Pro-Line. As for the heart of the company, our heart wants to be on every kit, everywhere.
BigSquidRC: Licensed bodies are big with you guys, do you ever make original ones that just never make it to production?
Gerardo Gonzalez: When your standards are high, there will always be some products that don't make the grade. However the Prius SC body died a painful death. LOL.
BigSquidRC: We hate body clips here at BigSquidRC, they are always getting lost or permanently "borrowed". Have your extended body posts with the screw on caps (they really need a proper name) been well received? Any chance of seeing them for the Revo or other platforms?
Gerardo Gonzalez: Hey good point, why don't you have your readers come up with a name for these devices. Yes they have been well received and yes we will consider doing them for other platforms.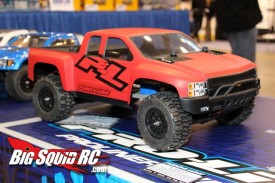 BigSquidRC: In the last 12 months, what Pro-Line product are you personally most proud of?
Gerardo Gonzalez- The Pro-2 chassis has probably been the most fun for our team and myself.
BigSquidRC: We are all going bashing, you can bring one vehicle, what do you bring?
Gerardo Gonzalez: 4wd Stampede loaded with a 3s lipo pack and Trencher tires. Oh yeah.
BigSquidRC: Thanks for taking some time out of your busy schedule to answer our questions Gerardo, who would you like to thank out there?
Gerardo Gonzalez: Thanks to the crew at Bigsquidrc for allowing us to be a part of your bashing scene and for hanging out at Cleveland, good times. Thanks also to all the fans of Pro-Line for inspiring us to keep producing world class products for your vehicles.