Wednesday Interview- ST Racing Concepts Steve Wang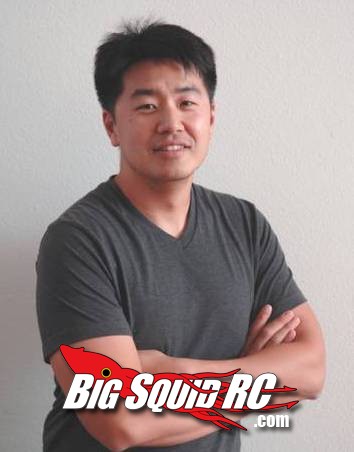 Our latest weekly column here on BigSquidRC is our Wednesday Interview. Each Wednesday we will be bringing you a new interview with an industry insider that has recently made some big news, this week it is Steve Wang from aftermarket company ST Racing Concepts. STRC has been teasing about a new LCG chassis for the Traxxas Slash 4×4, so we sat down with Steve and tossed out some questions.
BigSquidRC- Why did you decide to do hop-up parts? You could have called up any number of sources overseas and sold motors, batteries, or even complete cars, yet you decided to do aluminum and carbon fiber hop-ups.
Steve Wang: Before you enter any segment of this market, or any market that you desire to do business for that matter, you take a look at what's already out there in terms of competition, where in the market place can you carve out a niche for yourself, or do you see a segment where demand from customers are not fulfilled. So you do sort of an external analysis first. Then you do an internal analysis, what are our strengths as a company, what are our resources, where can we have the most control over quality/design/cost structure, and how deep is our pocket book? You then take both analysis and you mash them together and see where your strength meets the market the best.
BigSquidRC- If STRC is known for one thing it is quality control. How do you succeed when other companies continually have QC issues?
Steve Wang: Thank you for your compliment. QC issues was something we learn very quickly during the first year of STRC. We had to develop a process to be put in place with our factory as our product line quickly grew and expanded. We have a team of personnel that's solely responsible for QC and check through each part before they go into the packaging department. And part of QC can also be taken care of with the design. Not to go into intense details, but the engineer can design the products to make the QC team's life a little easier. Are we hitting the 100% mark with our QC control? No, and any manufacture would be lying to you if they say they are at 100% accuracy with QC. Unfortunately mistakes will still slip through the crack from time to time, but usually our team work quickly to resolve it, learn from it and prevent it from happening again.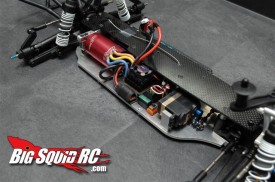 BigSquidRC- The future of rc, what trends do you predict for the next decade?
Steve Wang: Dude….if I know I would keep that information all to myself….j/k. I honestly can't tell at the moment. What is nice that I see is the industry going back to its roots a bit and making sure what we are offering in terms of products in this industry have relevance to full-size industry again. Cars are beginning to look like….well, real cars again. It does seem to me that for the next big thing to happen, it needs to have to follow the same formula….it has to look like the real thing. The industry as a whole looks to be searching for that next big thing: Some are trying scale buggy, some are trying rally, some trying F1 and some trying to revive touring cars….but whatever the direction the industry decide to go, you can be sure we'll be there to back it up with some high quality option parts.
BigSquidRC- Obviously being picked up by Great Planes is a big deal, did you crack a bottle of Dom when it was finalized?
Steve Wang: Yes, being picked up by GP was quite a milestone for us, but no, we won't be celebrating just yet…..not until we get that first payment…j/k. But quite honestly, we still have some ways to go in learning how to work with our new partner in understanding their needs and purchasing pattern, and also getting hobby shop around the country to recognize that there's now another solid source that they can get our products from with adequate levels of inventory. In my opinion, the work has just started.
BigSquidRC- Your upcoming LCG Slash 4×4 chassis is already making some waves, how many hours has your company devoted to the project so far?
Steve Wang: Oh Lord, if I really calculated how many hours I poured into this project, I would have given up already. In all honesty, a project like this, from my perspective it's not about making a profit, it's not about the amount of design hours, or whatever else it is costing us. It purely about our company showing what we can do in terms of design capability and translating that into a product that vastly enhance the performance of a vehicle. It's about us differentiating ourselves from other aftermarket manufactures. It's about us producing a product that's purely driven by our desire for competitive racing. I look at a project like this as a brand building/marketing project. A way for customer to see how we are different than the other aftermarket manufactures out there. And especially on this LCG project, I started a multi-installment documentary on how a project like this go from concept, to design, to prototype, to testing, and finally to mass production. A sort of a "behind the scene" type of read which we hope the customers will enjoy. Currently, we are in the finalizing stages right now and should go into production next week.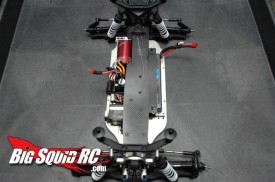 BigSquidRC- It looks like Traxxas now has their own LCG chassis. Worried?
Steve Wang: Not at all! First of all, from a bigger picture stand point, as stated in the answer above our LCG chassis kit is more of a "show case" project rather than a profit driven project. So we are moving ahead with our project regardless of what others are making out there. Second, when you look at Traxxas' version, you see lots of molded components, which is understandable for a large company like Traxxas. For the volume that they plan on producing, it makes absolute sense to use molded components. And on top of which they now offer another platform (the Rally car) to use these same components, they will achieve a positive return on the molds and tooling in no time. For us being the tiny company that we are with our strength and specialty is in CNC machined components, it naturally makes more sense to go after a double deck style aluminum plus graphite goodness type of LCG chassis kit.
Aesthetically, I think if you were to put them side by side, one being all plastic and one being graphite and aluminum, although my opinion is biased, I think ours just looks much more "racy" than the Traxxas one does. As far as performance goes, I think both will achieve a great performance increase over the stock Slash 4×4 chassis. Finally, I believe our LCG chassis kit is very attractive in terms of the cost to convert. I think the prices for the parts individually for the Traxxas LCG pieces are already available and it cost around $50 to get all the pieces necessary, and that is with a plastic motor mount. I think once you add on an aluminum motor mount for about $25-30, then you're looking about $70-75 to convert using Traxxas components. With our LCG chassis kit, we are trying what is probably being done for the first time in the industry, and that is what we called a "manufacture direct to customer" pricing. Customers will be able to purchase our LCG kit directly through our website for $99. Yup, for only $99 bucks, you will get a LCG conversion kit with a 4mm hard anodized aluminum lower chassis, 2.5mm graphite upper deck, aluminum motor mount, and a bunch of other trick components. So are we worried about the Traxxas LCG Chassis? Well, $70 bucks for mostly plastic components or $99 bucks for the beauty of aluminum/graphite goodness….I'll let the consumers decide.
BigSquidRC- Do you do all the design of the new parts personally or do you have help?
Steve Wang: Yes, I do all the design. Am I the one sitting behind the computer drawing up all the parts? Absolutely not! That's a waste of time (you should hire someone to do that). A "designer" is someone with the creative mind that develops the idea/concept/product that serves a purpose, solves a problem, or provides an enhancement. When we select the vehicle we are going after, I come up with a list of parts we are making, I set some basic parameters for what we are trying to improve with each part, and roughly where we need to be in terms of cost. Our engineers and CAD artist then goes after it with an initial design and then it comes back to me about 3-4 days later (oh yeah, we work fast) and I start refining the looks, look for possible weak points in the design that prevent any future problem we might have with the part, and make sure the product line is relevant to the market, then we go into prototyping.
BigSquidRC- Why do you choose the vehicles that you do? Only super popular vehicles, or vehicles that you just think need serious help?
Steve Wang: Some choices are obvious, while some I go after them with just a gut feeling. I don't always hit home runs with my choices. I've struck out quite a few times in the early days of STRC. That's just part of the learning process in figuring out where you belong in the market place and what area of the market you want to carve out and try to stake your dominance over it. You learn from every one of your strike outs and hopefully you are not too beat down financially to keep your business going. But more importantly, you learn your lessons and get better at figuring out what to make and which vehicle to make it for.
BigSquidRC- If we were going outside to bash right now, what vehicle would you grab?
Steve Wang: At the moment, I would grab the following:
My 6 year old son
his Traxxas Monster Jam Grave Digger
About 6 battery packs
And my video camera
…and go to the hillside by the house
It's amazing what you can capture when you hand the radio to a kid that only knows full throttle hahahahaha
If I'm gonna bash, I grab my Traxxas Stampede 4×4….that thing is nuts!!!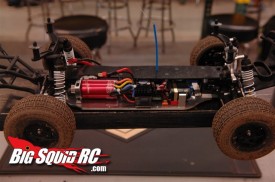 BigSquidRC- What piece are you most proud of? What one makes you think you really 'nailed it' and really improved upon.
Steve Wang: Our Slash 2WD LCG conversion kit is probably one of the products that I'm the most proud of. By my guess, it might be the most popular LCG kit ever sold (I will keep the number confidential, but it's well into the thousands). Our concept was very simple: Make a LCG conversion kit for a Slash that the customer can achieve for under $70 when it's all said and done. Why? For me, it makes absolutely no sense to make a LCG conversion kit that will cost more than $100 for a truck that cost only around $200. At some point you have to keep in mind what kind of customer are the Slash owners, how much are they willing to spend on upgrades before they just say "hey, at this point I might as well get a SC10 or TLR22SCT or something" As far as performance, we have countless amount of customers told us how their Slash with our conversion kit are now battling side by side with the newer short course trucks. And you know, I don't know what it is, but there is just an awesome feeling that comes with beating a newer design short course truck out there with your Slash. Sort of a David slaying Goliath type of feeling.
BigSquidRC- Anybody out there you would like to thank for getting STRC where it is today?
Steve Wang: First and foremost, I thank God. It's been an amazing ride for the past 13 years that He has put me on being an entrepreneur in this industry. To be able to make a living, to support a family, and produce products that fellow hobbyist enjoy. I cannot find the words to express just how blessed I am.
Of course my wife, an accountant and a MBA in her own right who decide to fully support our small business with her talents. She handles all our finances and accounting, all the paper work and documentation that I despise doing. She has been with me every step of the way and my consultant in some of the toughest decision I had to make. Always supportive, and honestly in my humble opinion, if you're going to make it as an entrepreneur, the support from your family or your spouse will be one of the key determining factors on whether you make it or you don't.
In the R/C industry, this would be a name you never heard of: Fidel Velez. He was a local hobby shop owner where I started on-road parking lot racing. I used to just hang out at his shop for hours and hours….asking all sorts of questions and bought very little (I was in high school at the time, funds were limited). But he was always patient with me, always answered my question, instead of doing the work for me and charging me for it, he took the time to teach me. From soldering battery bars on to batteries (newer hobbyist won't even know what that is), rebuilding motors with brushes and springs (again the newbies would be lost on this one), gluing tires, building a proper diff….etc. A lot of what I know in terms of r/c related knowledge all came from my conversation with him and all those hours he allowed me to hang out at his shop. He helped me learn and enjoy this hobby which I still have great desire and love for till this day more than 20 years later. I wish all hobby shop owners were like Mr. Velez, we would definitely have a bigger population of hobbyist in our industry.
Hey, of course, thanks to Big Squid RC for making me famous. You guys are on the top of my list of news websites to hit every morning. Keep up the great work! And thanks again for the opportunity.