Weekend bashing wrapup & broken parts tally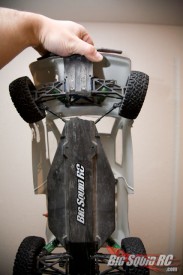 Sunday was a good day for bashing.  I had a family gathering and decided to take a couple r/c trucks along for the fun.  My choices were my Losi Highroller and DuraTrax Evader DT.  My brother brought his Traxxas Stampede as well.  It was a great time of curb hopping, burnouts, bootlegger turns, and donuts.  I was having so much fun with the bashing that I forgot to take any pictures or video of the action.
My brother was beset by issues from the get go, but in the end the only problem was a loose pinion gear.  The loose pinion chewed up his spur gear a bit, so he'll have to replace it eventually, but it still had enough in it to keep going.  Once we got that squared away he was back to bashing.  By the end of the day I had gone from two fully operational trucks to two busted up trucks.  The worst of it was given to my Evader DT, it ended up with a snapped graphite chassis (pictured at right) and chassis brace.  I still have the original plastic chassis, so that's going back on.  Graphite isn't really ideal for bashing anyway, it's too stiff and snaps too easily when pushed to extremes.  My Highroller fared much better with the hop-ups I recently installed, the durability of the truck wasn't a  problem, but it's failure was the most spectacular.  I burned up it's old brushed motor (a 10×2 turn modified) from over-gearing, and with the massive amount of smoke pouring out of the back I initially thought I had a LiPo fire on my hands.  Since I have already installed a brushless ESC (DuraTrax's excellent and affordable DE10), it's time for me to start shopping for a brushless motor to go with it.
So here's the broken parts tally for this weekend (all prices approximate):
Graphite Chassis for Evader DT – $45
Chassis brace for Evader DT – $3
Team Orion Formula SV2 10×2 brushed motor (to be replaced with a brushless motor) – $50 – $75
Spur gear for Stampede – $3