Welcome Our Newest Writer and Pro Driver – Jason Annis!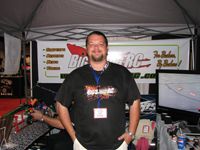 I would like to welcome our latest addition to the Big Squid RC Family, Mr. Jason Annis! Jason has been a pro-driver for a few years now with a bunch of big wins under his belt. He is one of the awesome drivers we had at the iHobby Expo 2008, wowing the crowd and bashing his heart out!
With the popularity of the Traxxas Slash these days, we wanted to start doing some articles about the truck. From stock startup to full blown, hopped up, bashing machine! Jason will be the main man behind these articles, talking about setups, parts and anything else Slash! After his performance at the iHobby show, I have all the confidence in the world that he will put the Traxxas Slash through it's paces.
Welcome Jason! I'm glad to have you on board!