Win a Brushless Venom Gambler Truck!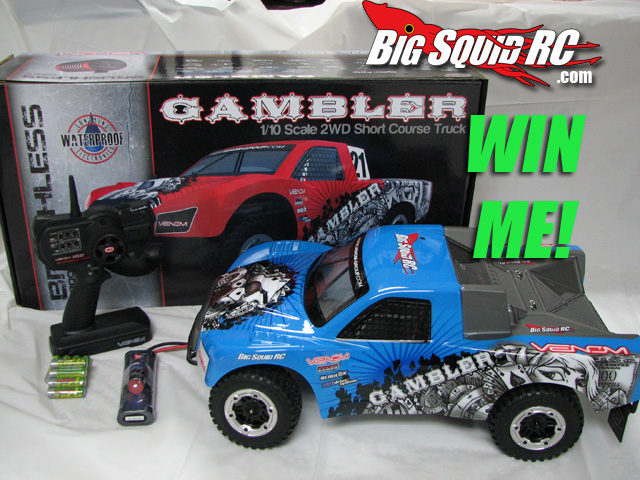 [Update: Sorry, this giveaway is closed! Keep an eye on the front page for our next one coming soon!]
Yes folks, it's contest time again! We recently said that when we hit 500 facebook fans we would give away something! Well, to thank you all for your support we hit 500, and it's time to reward a lucky reader!
This time around we are giving away one of the Venom Gambler SC trucks we used here to test around the office. Don't worry, we are working with Venom to get some replacement parts for anything that needs a little fixing up, and we will make sure it's in full running condition when we ship it to the winner!
So how do you win? (click post title to continue reading)
This one is easy! If you haven't, go over and make sure your a friend of ours on Facebook. So look over on the right and click the LIKE button on our Friends section. Second, leave a comment on this post. (A name and VALID email address is required. Winner will be contacted by email) One lucky commenter/FB fan will win the truck! You have until May 30th 2011 to enter, and the random Drawing will be on May 31 2011.
Visit Venom-Group.com and let them know how much you appreciate them helping us out with the contest!
Rules: A valid email address is required. You must be 13 years of age or older. All entries must be submitted by 11:59pm CST May 30th, 2011. Also, you can leave as many comments as you want, since this is a test of the commenting system, but you will only receive one entry in the giveaway. We are able to track multiple entries by IP address and we know all the popular free proxies, so please don't try to make up a bunch of names and email addresses to get more entries, it just spoils the spirit of these giveaways. If you leave a comment that we are forced to delete (for any reason) your entry in the giveaway will also be forfeited.