WIN A TRAXXAS SLASH 4X4 – March Bash-ness Champion!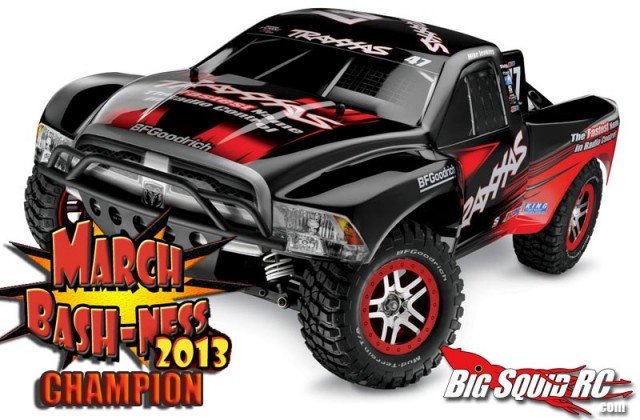 Congratulations to TRAXXAS as their Slash 4×4 is the 2013 March Bash-ness Champion! Every year our readers never fail to surprise us on who they are going to vote for, and this year was no exception. We never would of guessed the finals would of been Traxxas vs Traxxas! I'm not sure who won our office pool this year because I know nobody saw that coming! To make it even crazier, it's the closest voting finals we ever had! The polls say the Slash won by 1, but looking at the logs, it really won by 5. There were a few people who snuck in votes after the official closing time.
To help celebrate their win (I'm pretty sure Traxxas has been celebrating all week.. their odds were good) they have agreed to let us GIVE AWAY a brand new Traxxas Slash 4×4!
So here are the rules, you need to leave a COMMENT below with a valid email address! You should be over the age of 18, or get your parents to sign you up. You must live in the USA. We will only ship to a US address. Sorry guys, rules are rules. You must have your comment/official entry in by Friday night April 12th 11:59pm cst. We will then choose a RANDOM WINNER EMAIL from all valid entries! Good Luck!