Win aluminum Slash 4×4 hop-ups from GH Racing and Big Squid RC!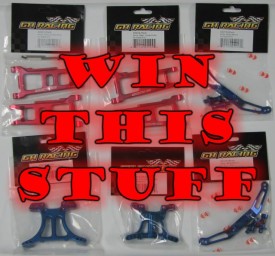 [Update:  This contest is now closed.]
It's time for another Big Squid giveaway!  Actually TWO giveaways to be exact!  This time we have a whole load of bright and shiny hop-ups for the Traxxas Slash 4×4 from those masters of metal machining at GH Racing.
GH Racing has been awesome enough to throw a bunch of their great looking and awesomely durable aluminum parts into our prize box!  We have two complete prize packages, each one consisting of front and rear A-arm sets, front and rear body mounts, and front and rear shock towers, all together worth over $150!  One prize pack is made up of red and blue anodized parts while the other is all polished aluminum.  One of these packs would look great on your Slash 4×4 and make it much tougher for all that huge air that we love around here!
Plus, the winners will get a boat load of Big Squid RC stickers to spice up the outside of their ride as well!
All you have to do to be entered is help us test our new comments section.  Just leave a comment (name and valid email address are required, registration is not) using the form below this post.  But please read the rules below before entering.  And be sure to drop by the GH Racing web site and let them know you appreciate their generosity!
---
Rules: A valid email address is required.  You must be 13 years of age or older.  All entries must be submitted by 11:59pm CST February 25th, 2011.  Also, you can leave as many comments as you want, since this is a test of the commenting system, but you will only receive one entry in the giveaway.  We are able to track multiple entries by IP address and we know all the popular free proxies, so please don't try to make up a bunch of names and email addresses to get more entries, it just spoils the spirit of these giveaways.  If you leave a comment that we are forced to delete (for any reason) your entry in the giveaway will also be forfeited.  The first winner we pick will get the choice of which color set they want.

[Note: Due to an unforeseen scheduling conflict we've had to move up the drawing date.  All entries must now be in by February 25th.  The winner will be announced on Sunday, February 27th.]