Win Cubby's Boost!! Contest Time!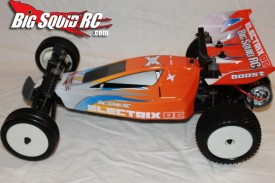 Cubby recently posted his review on the Electrix Boost. And now he wants to give it away to a lucky reader! So here are the rules: The 100th comment on this post to our facebook page is the winner! It's that simple. The comment has to be attached to THIS post on FB. (nested replies do not count, must be a lead comment). If you have won a vehicle from us in the last 12 months, please do NOT enter. We are trying to spread the wealth here. Open to US Residents only this time. (Sorry over-sea-ers)
Hopefully the 100th comment is creative. 🙂 Good luck! Now what are you waiting for? Get over to our Facebook Page and leave a comment!!!
UPDATE: We have a winner!! Congrats to Chris Dennis with the comment "The BSRC crew rules!" Thanks Chris!!!
Thanks to everyone who entered the contest! Hope that was a fun one.. we always try to be different around here… and that one sure was exciting!! LOL. Watch for another contest coming in the near future!