WIN OUR TRAXXAS XO-1 CONTEST!!!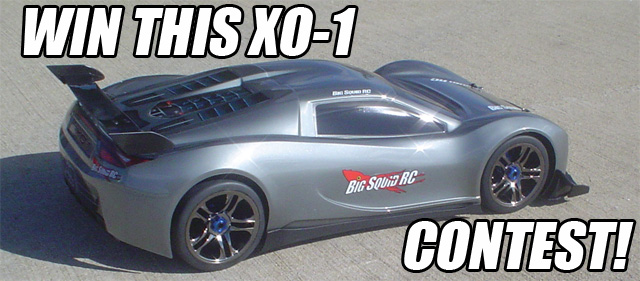 That's right, we are giving away our Traxxas XO-1!!! Very soon we will be done with our Traxxas XO-1 Review, and we figure why not give it away to one of our fans! This contest is a little different than our others so please read all the rules, and make sure you do all the steps!
How to Enter: 3 Easy Steps
Step 1) You need to LIKE US on Facebook. Just head over to our Big Squid Facebook Page and click that like button. Or the LIKE button in the right column.
Step 2) We want to show some love to the shop that sold us our XO-1. So do us a favor, and head over to the Hobby Town, Orland Park IL website, or go directly to their Facebook Page and LIKE them also!
Step 3) Leave a comment on a WIN A Traxxas XO-1 POST! That's this post! Feel free to comment on the facebook page posts as well. Now here's the twist, you can Enter Once a Day! We will monitor the daily comments. So if you want to increase your odds of winning, make sure you comment once a day! (Please no more than once.. don't make us disqualify you!) Make sure to mention the XO-1 Contest or Big Squid RC. You really want to help? Spread the word and post the contest on your own wall! The more people that we get heading our way, the more contests we can do!
And that's it! You MUST follow the 3 simple steps. Like Big Squid RC on Facebook. Like Hobby Town USA Orland Park IL on Facebook, and then just leave a comment! Don't forget you are allowed to enter once a day!
The OFFICIAL deadline for entries is Midnight CST, February 29th 2012! A winner will be chosen shortly after and announced the next morning.
---
Official Rules!
You must be 18 or older to enter! This vehicle is pretty insane and could be dangerous in younger people's hands. So please, 18 or older only.
This contest is for our used XO-1. The one we reviewed. The XO-1 is coming to you as is. We will do our best to replace any broken parts before we ship it out to you, but it will have some scratches and dings. Not all the XO-1 parts are available yet, but we will do our best. Don't worry it will be running and working. 🙂
All three steps must be completed for official entry.
This contest is limited to USA residents only. Sorry, but we just can't ship this thing outside of the US. We apologize to our wold wide fans.
No purchase necessary, just follow the rules for entry. Rules may be subject to change if we messed something up.
The Winner will be randomly selected from our final entry database using some random number generator software.
GOOD LUCK!!!