Writers Needed at Big Squid RC!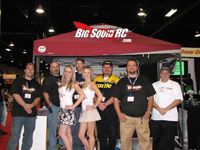 Hey all you 'wanna be' RC writers! Big Squid RC is once again looking for help, so now is your chance!
With iHobbyExpo.com coming up in a few weeks, the news is going to start to pour in. This month is always the calm before the storm, then we are swamped for a few months after. So we are back on the hunt! We are looking for writers that LOVE RC, LIVE RC, and want to talk about it! You need to be able to produce a minimum of 2 articles a week. They don't have to be original reports all the time, we need people that can handle the press release stuff as well.
Do you hang out in the forums? Stay on top of the latest and greatest RC news? Have access to photoshop or some other picture editor? Then we need you! We have been bringing on new people, but are still growing so fast, we need more! We are ramping up for I-Hobby, and have a lot going on.
If you know a little about web pages/html, picture editing, (a little writing talent wouldn't hurt, but if you are a reader of the site, you know it's not really a necessity.) We need help from daily news to original articles. Having some contacts in the RC industry is a plus, but not a requirement. Being able to use a picture editor to scale and place logo's is now a MUST, as well is some decent communication skills.
Have a specialty? Only into Drag Racing, or Rock Crawling? That's cool. We cover it all.
If you are interested drop us an email, maybe give us a small example, and we'll go from there.
If you are in the Chicago area, there are some good perks like driving the latest RC vehicles before they are released to the public, and all the stickers you could want! (also, you should be over 18, we don't want to get in trouble with anyone's parents!) Your first test? Figure out how to send me an email!
Brian