Xceed 24pc Toolset with Bag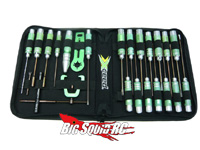 Forgot where you placed that Flywheel Wrench? Hot off the line is Xceed's newest tool kit. This 24 piece tool-set is designed to contain all your wrenching needs in one bag. Just about everything you need is enclosed and organized so no searching around for the right tool anymore! Embroidered on the front is xceed's logo and a convenient name tag pocket.
Drop on by Xceed to check it out!