XRAY 808E 1:8 Electric Buggy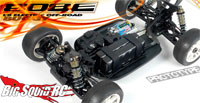 This might be the year of electric buggies! Seems like all we have been reporting on lately. So jumping into the mix is the Team XRAY 808E 1/8th scale electric buggy. It's based on their popular and successful 808 nitro which is probably a good place to start. It's a kit version only, with a decent amount of quality parts on it. This baby wont be cheap.
Get a head start on the competition and jump on over to Xray to check it out!